On Monday 9 July, Betsy Barkas visited Farnborough International arms fair: a major event on the arms fair calendar. It takes place every other year, alternating with the DSEI arms fair in London. This year, Farnborough ran from 9-15 July.
Despite its family-friendly weekend airshow that attracts around 100,000 visitors, when I visited Farnborough the order of the day was definitely business. The train was packed with suits discussing business deals and their schedules for the day. Although many of the delegates would have been engaged in civil aviation, there is a very large military presence at Farnborough. This was revealed by the trade catalogue I flipped through when I arrived: thousands of exhibitors, and among them 46 companies listed as exhibiting "missile systems".
I realised that getting around the displays of all the arms companies I recognised from the catalogue would take all day, as the site is massive. There are four indoor halls; an airstrip for flying displays; and alongside this, a static display of aircraft. There are also numerous private company chalets that host meetings throughout the day. Once I'd got my bearings I headed straight for the hub of activity that was the BAE pavilion, which dominated one end of the site. The Eurofighter on display outside was drawing lots of interest: as well as a recent contract with Saudi Arabia, the upgraded fighter aircraft is currently being offered to authoritarian regimes including Oman and United Arab Emirates.
Several minutes later, Prime Minister David Cameron pulled up and headed straight into the Eurofighter building. No UK Prime Minister has opened the show in recent years, but Cameron broke with this tradition in a gesture of enthusiasm for the arms industry. His speech that day was particularly brazen in its defence of his widely-condemned arms missions to Egypt, Indonesia and other repressive regimes: "however much flak I got for that, I'll do it all over again".
At the other end of the site, Finmeccanica's pavilion was a dominating presence. Finmeccanica's many subsidiaries include electronics producer Selex, which has reportedly sold communications equipment to Syrian police as recently as February 2012.  Another Finmeccanica subsidiary, UK-based AgustaWestland, displayed military helicopters, of which recent customers include UAE, Algeria and Libya. AgustaWestland also has a co-production deal with Turkish Aerospace Industries (TAI). During Farnborough 2012, TAI unveiled plans for a new "Hurkus" attack aircraft. TAI already produces military helicopters both for export, and for domestic repression of separatist Kurds.
I tried to look around some of the other pavilions, but many arms companies only had chalets for meetings by appointment. It's not surprising that I wasn't allowed in: behind the closed doors of these chalets is where the real business takes place at Farnborough. But it's not all business – from the road below I could see rows of VIPs out on balconies, watching the flying displays and enjoying drinks in between discussing business deals.
The halls inside the exhibition space were packed with familiar names: General Atomics, manufacturer of Predator drones used for CIA assassinations in Pakistan, of which there were a couple of models along with specifications: suitable for "'Hunter-Killer' missions over land or sea". UK company Chemring Defence was there, exhibiting a catalogue listing crowd-control measures, which the company has sold in the past to Egypt: spent CS gas canisters have been used recently against pro-democracy protesters in Cairo.
Rosoboronexport, major weapons supplier to Syria, had a significant presence, with a large stand within the halls as well as a large private chalet. Despite being pressured on the subject, the UK Government had refused to intervene to prevent the agency attending the arms fair, stating that it had no input into choosing the companies attending a "commercial event". However, the UK government plays a huge role in organising the airshow via its arms sales unit, UK Trade and Investment Defence and Security Organisation. UKTI DSO's large pavilion hosted conferences and private meetings, and I saw quite a lot of UKTI DSO staff, some of them escorting military delegations.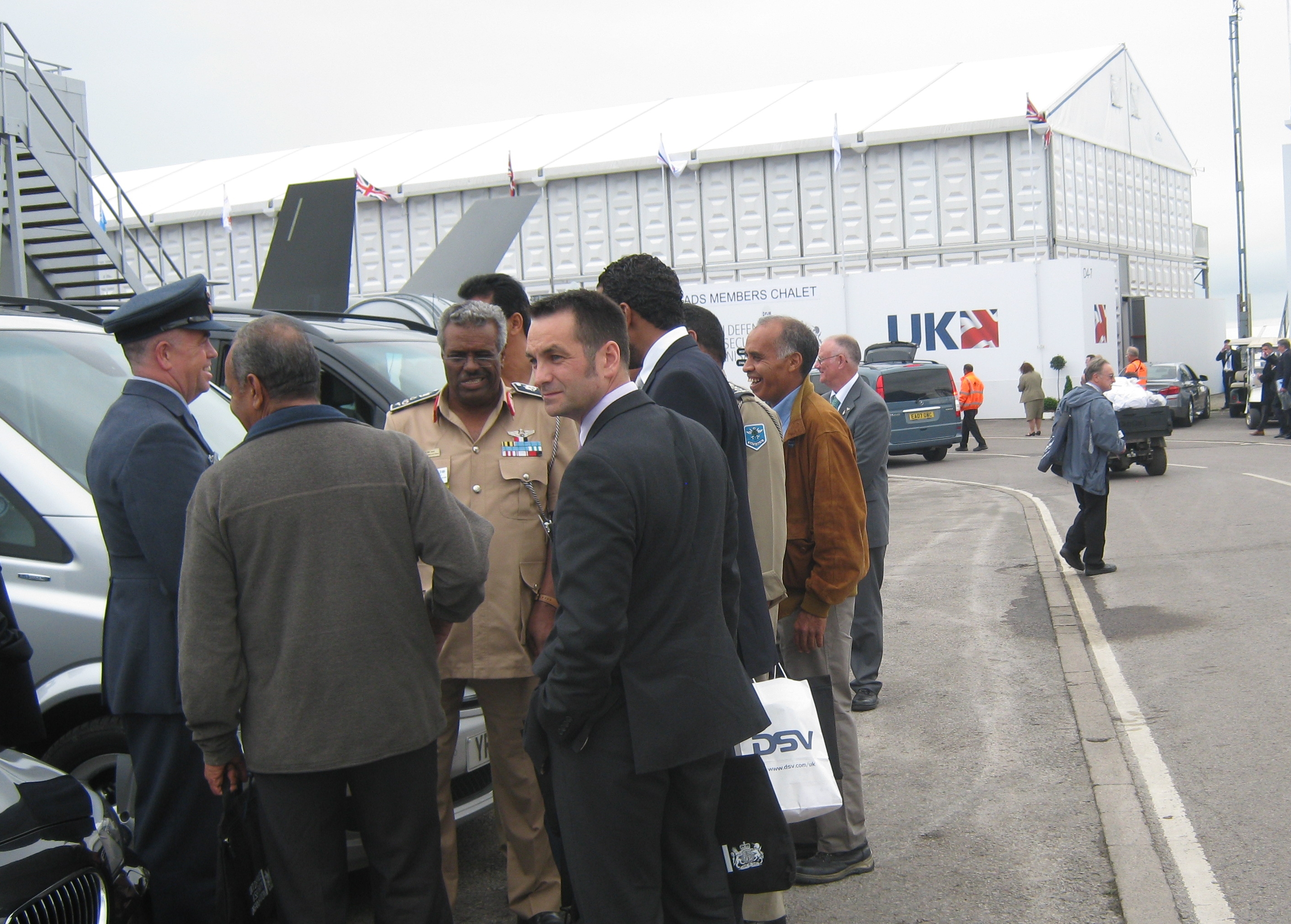 The military delegations, in full dress uniforms, are easy to distinguish from the regular trade visitors. Throughout the day I spotted the Algerian, Italian, Vietnamese and Jordanian delegations. In total, 70 military delegations from 46 countries attended during the week, and a number of these military personnel attended an exclusive reception at the Natural History Museum that evening. At the end of the day, I spotted the Libyan delegation near to the UKTI DSO pavilion. In 2010 there was a clear effort made by UKTI DSO to court the Libyan regime, with private meetings and lunches being laid on every day of the show. Two years later, and following massive repression of the Libyan people, it was a telling indication of the UK Government's priorities to see the military delegates from Libya milling around chatting with their UKTI DSO escort.