On the first anniversary of the murder of George Floyd, Campaign Against Arms Trade continues to condemn the UK's role in arming repression around the world, including in the USA, and exporting violence and brutality. The violent crackdowns we witnessed during last year's Black Lives Matter protests and the use of anti-protest equipment such as rubber bullets and CS gas on peaceful protesters shone a light on the increased militarisation of the police – something happening around the world. Tear gas, which can cause serious injuries, miscarriage, and even death, is a chemical weapon banned for use in war, yet it is widely used against civilians from Gaza to Minneapolis. 
The USA is the second-biggest buyer of UK arms in the world. Since 2010 the UK has licensed £2.6 million worth of Security and para-military police goods to US police forces, and a further £29 million worth of ammunition sales to the US military and police, including crowd control ammunition, CS hand grenades, and tear gas.
It is very hard to put a total value on these arms sales. Over the past five years, the UK government approved £2.8 billion of arms to the US using Standard Individual Export Licences (SIELs) which all for a pre-set value of arms sales, and 199 unlimited Open Licences, which allow for the export of an unlimited quantity of weapons. 
UK licensing rules prohibit arms exports where there is a clear risk that they might be used in internal repression and yet, The UK has licensed tear gas to Hong Kong, which was used against protesters in the violent crackdowns of 2014 and 2019; to Egypt, where it was used against protesters in Egypt's Tahrir Square in 2011, aiding a bloody crackdown which killed over 800 people. It has been sold to France, where tear gas was used against Black Lives Matter protesters in Paris. In total, UK-made tear gas has been sold to over 50 countries in the last decade.
The UK doesn't just license the sale of weaponry. It actively promotes it – and with it, the militarisation of policing – through multi-million pound arms fairs like the Defence and Security Equipment International, which is due to take place in London this September. In fact, just three months ago, representatives from the US attended the Security and Policing Arms Fair, a secretive event at which arms, border, policing and surveillance companies gather to exhibit equipment and technologies. The fair is backed by the UK's Home Office and does not even allow journalists to attend.
The militarisation of policing is nothing new and police forces in colonial and other oppressive regimes have long sought to control rather than protect – with the boundaries between what is considered to be internal and external security becoming increasingly blurred. Militarisation is a process that relies upon the widespread social acceptance of a narrative of insecurity, convincing the public that there is always a new emergency just around the corner. The division between the police and military is becoming ever more blurred from both directions. Many countries have what are effectively military units within the police, and others have the armed forces carrying out police roles. In the US, police receive weaponry directly from the US Department of Defense, and the National Guard has been deployed against protesters, most infamously during last year's summer of Black Lives Matter protests.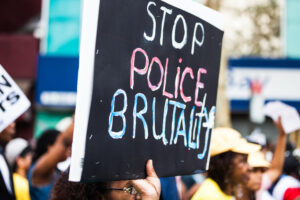 Policing principles seem to be consistent and readily transferable between countries. British police forces learnt protest suppression techniques from the Royal Hong Kong Police and the Royal Ulster Constabulary in the 1980s. The UK College of Policing now provides training to many police forces including those in Hong Kong and Bahrain. Last year,
findings by CAAT confirmed that in 2019, the College of Policing – the professional body for police in England and Wales – worked with the Nigerian authorities to train officers from the now disbanded SARS unit
 (Special Anti-Robbery Squad). The SARS unit was responsible for a list of violent acts against mainly young Nigerian citizens, which led to the #EndSars movement of 2020 – a movement in continuation of the global Black Lives Matter movement.
Siana Bangura of Campaign Against Arms Trade said: One year on from the murder of George Floyd – a brutal and merciless killing that the world witnessed in broad daylight – we are still having to say Black Lives Matter. We are still having to raise our voices and call for justice for those being murdered by state-sanctioned racism. 
The violence we saw against protesters last summer was appalling. And it seems that as soon as the violence was out of the headlines the arms sales resumed. We know that there is a very real risk of this equipment being used for repression, because it literally already has been. By arming and supporting police forces responsible for ongoing violence, Downing Street is empowering, enabling and legitimising their abuses. 
In the end, all our struggles are connected – where there is violence and catastrophe, all roads seem to lead back to the UK government, a government which continues to approve the sale of arms to countries subject to criticisms over Human Rights abuses. 
The fact that these sales to the US happened straight after the crackdown is a sign of the contempt that the government holds for democracy and anti-racism campaigners. If UK arms export controls are meant to mean anything at all then these licences must be revoked.
Police violence and racism is not new, and nor is it exclusive to the US. The UK arms dozens of violent and repressive police forces around the world, and many of the issues raised will be familiar to people here and beyond – from Colombia to Palestine. 
Despite people dropping to their knees and posting black squares on their Instagram grids in a bid to perform their solidarity, UK forces are becoming increasingly militarised and the tally of people who have died in police custody or directly following police contact continues to increase –  1741 people have died in police custody or following contact with the police in England and Wales  since official records began in 1990 – with zero convictions and zero semblance of justice for their families.
Last year, we were reminded that in no way shape or form is the UK innocent. And every day we are reminded that the UK is not just complicit in acts of terror across the globe – it is an active player in this deadly process of domestic militarisation.
Take action
Watch London CAAT's latest video, released today, which makes the link between British arms companies and the export of weaponry to police forces in the U.S. and around the world. More information is available via CAAT's web page on policing.
Write to your MP expressing your concern and asking them to support the cancellation of arms export licenses to U.S. police forces.
Support groups in the UK campaigning for justice, including the United Friends and Family campaign, and keep updated with Black Lives Matter UK
Learn More
Watch 'Who Polices the Police?'
Watch 'Injustice'
Listen to 'Do Police & Prisons keep us safe?'
Read 'The racism that killed George Floyd was built in Britain'