The Cairo Institute for Human Rights Studies (CIHRS) today held an "awards ceremony" for the top "Spoilers of Peace" in the war in Yemen, who are doing most to perpetuate the war, cause death and suffering, and obstruct efforts to bring peace. The goal of the mock "awards" is to bring international attention to the continuing horrors of the Yemen war and to "shame the shameless", highlighting the responsibility of many different actors for the atrocities being committed.
The panel of judges, Yemeni lawyer and human rights activist Huda al-Sarari, Alice Mogwe, President of the  International Federation for Human Rights, human rights investigator and member of the International Commission of Jurists Reed Brody, and Hadil Al-Mowafak, a Yemeni activist and Research Fellow at the Yemen Policy Center, gave awards to individuals representing all sides of the conflict, including Ansar Allah (the Houthis), the Saudi coalition, the Southern Transitional Council, and the internationally-recognised government of Yemen.
Saudi Crown Prince Mohammed bin Salman was given awards in two categories: "Committing atrocities and severe rights violations", and "Violations against children".
UK Prime Minister Boris Johnson was named the top Spoiler of Peace in the category "Arming the parties to the conflict"
The top Overall Spoiler of Peace was the Houthi leader, Abdul-Malik al-Houthi, for the multiple war crimes and human rights violations committed by the armed group.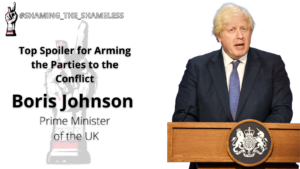 Read about why CAAT's nominated Boris Johnson here.
Sam Perlo-Freeman, Research Coordinator of Campaign Against Arms Trade, said: "The war in Yemen has largely fallen out of the news, but the suffering of the people of Yemen continues. As the "Spoilers of Peace" awards highlight, all parties to the conflict are guilty of appalling crimes. But those who arm the warring parties also bear huge responsibility, and none has been more enthusiastic in keeping the war going through arms sales than the UK under Boris Johnson and his predecessors. As the UN Group of Eminent Experts have urged, all arms supplies to the warring parties must stop, and the international community must take urgent action to bring this horrific war to an end."
Full list of award winners
Top overall spoiler of peace: Abdul-Malik al-Houthi
Fuelling the war economy: Abd El- ٌRabo Mansour Hady (Internationally-recognised President of Yemen)
Committing atrocities and severe human rights violations: Mohammed bin Salman
Causing humanitarian suffering: Hani Ben Brik, Vice President of the Southern Transitional Council
Perpetrating Sexual and Gender-based Violence: Abdul Hakim Hashem Ali Al-Khaiwani (Houthi Director of the Security and Intelligence Bureau)
Undermining Safe Reporting and Freedom of Expression: Mujahed Ahmed Al-Amdy, head  of the  specialized criminal court in  Houthi-controlled areas
Arming the parties to the conflict: Boris Johnson
Causing environmental damage: Mohammed Ali Al–Houthi, Former President of the Houthi Revolutionary Committee, and member of the Houthi Supreme Political Council
Violations against children: Mohammed bin Salman
Violations Against Asylum Seekers, Refugees and Migrants: Shallal ali Shaye (Aden's Security Chief and Senior Commander in the Southern Transitional Council police chief in Aden)