Building on the successes of Smash EDO's earlier campaign, activists with Brighton Against Arms Trade are reinvigorating Brighton's resistance to the local EDO weapons factory.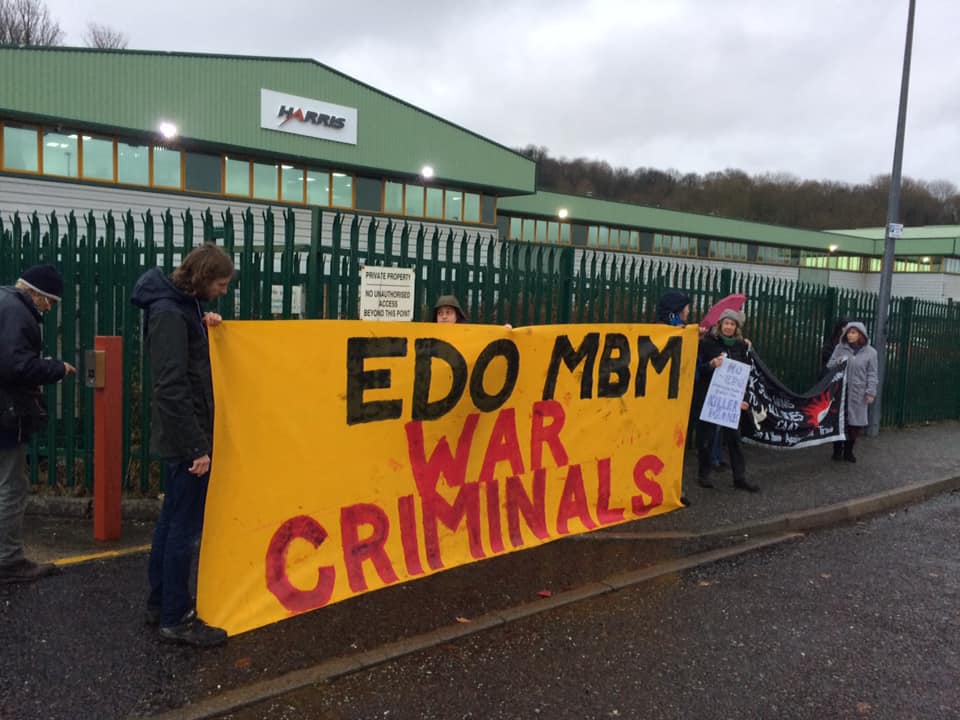 From 2003 to 2013 the now infamous 'Smash EDO' campaigned to shut down a small weapons factory in Moulescoomb on the outskirts of town: called EDO MBM.  At the height of the campaign, in 2009, a group of activists 'decommissioned' the factory to prevent exports to Israel, as it relentlessly bombed the people of Gaza. In the resultant Court case all the activists were found not guilty. This was just one of many high profile legal battles between EDO MBM and Smash EDO. In 2005 EDO MBM took out an injunction against 14 named protesters in an attempt to stop the protests at the factory. After a year-long legal battle EDO MBM were forced to withdraw and were obliged to pay costs of between £1-1.5 million. In between there were countless lock-ons, roof top protests, demonstrations, protest camps, teach-ins, exhibitions, arrests and court cases.
Court cases were won with a combination of painstaking research and grassroots action. 
As we know, arms manufacturers are notoriously secretive about their activities.  We also know that these activities are carried out not solely in vast industrial complexes far away from us, but in small factories in towns all over the UK.  Since people in Brighton first became aware of the existence of the EDO MBM factory, academics and campaigners have undertaken thorough research, in order to uncover evidence of the Moulescoomb factory's complicity in violations of international law and other atrocities.  This evidence was strong enough to result in the exoneration of the actions of the decommisioners, who had literally smashed up the factory. 
In July 2019, it emerged that a panel of experts organised by the UN Security Council, had found irrefutable proof that EDO MBM were a necessary accessory to a Saudi 'attack that violated international law' against a civilian target in Yemen.  Inspectors found fragments of components clearly stamped with the words EDO MBM.  The fragment also bears the bomb part's "cage number" – which is registered to its factory at Home Farm Business Park, Moulsecoomb.
Further work by BAAT researchers in November 2019 uncovered EDO MBM'S role in allowing their parent company, L3 Harris, to thwart the US congress' attempt to prevent the proliferation of drone warfare by leveraging the UK's paper thin regulatory regime to aid Turkey in the development of their own Bayraktar TB2 drone. Once again, this seemingly innocuous factory is enabling tyrants to commit atrocities and murder with impunity across the Middle East and around the world. 
As a result of all this, a new campaign has begun: Brighton Against the Arms Trade. We have built on the reputation of the vibrant and creative old Smash EDO campaign which challenged the factory relentlessly and ensured it had no opportunity to expand its deadly trade. Opposition to the EDO MBM factory in Moulescoomb has become a no-brainer for many people in Brighton. 
We know we can get attention because of the notoriety of the Smash EDO Campaign, and we know EDO MBM and their parent company, L3 Harris, will be worried. We also know we need to move on and build something new, at the same time as using many of the old knowledge and strategies that worked so well. 
Our focus now is on building a coalition of groups and individuals impacted by, and opposed to, the arms trade. Over the last year we have worked with activists from: Brighton Against Borders, Brighton Kurdistan Solidarity, Brighton and Hove Labour Left Alliance, Brighton Quakers, Brighton and Hove Palestine Solidarity Campaign, Brighton Migrant Solidarity, Brighton and Hove Amnesty, Sussex University Climate Justice Network, and the Women's International League for Peace and Freedom.
We have held three well supported public protests at the factory, and activists from Brighton Against Borders locked onto the factory gates, disrupting work and shutting down the factory on a cold Monday morning as the news about collaboration with Turkey was about to emerge.
You will be hearing a lot more about us. If you are in Brighton, get in touch and come and join us!
You can find the group on Facebook or email brightonaat(a)riseup.net to get in touch.