Canterbury activists from the new East Kent CAAT group have been targeting Barclays over their shares in Israeli Arms company Elbit systems,.
Barclays have been hit by a string of protests from activists across the country over their shares in Israeli arms manufacturer Elbit Systems. Elbit make 85% of the drones used by the Israeli military, and it's armed drones are used by the Israeli army in daily surveillance and attacks in Gaza.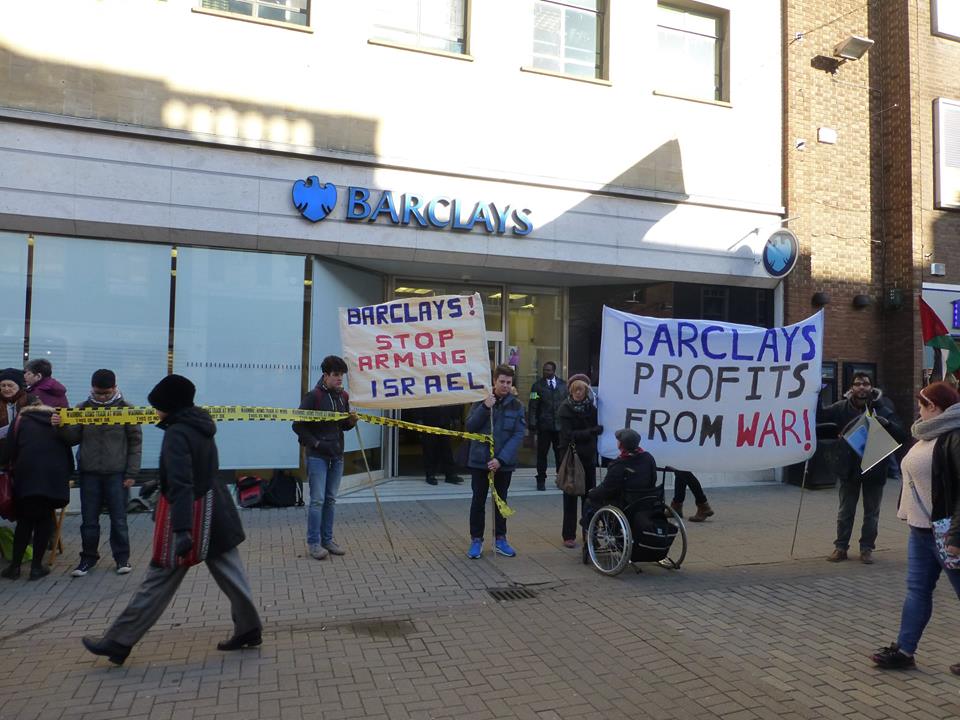 Members of East Kent Campaign Against the Arms Trade, Faversham & Whitstable PSC, East Kent Justice for Palestinians, University of Kent Palestine Solidarity and others gathered for a lunch-time protest outside Canterbury's Barclays. It was the second time in two months that the branch has been targeted by activists, following an earlier demo in December 2014.
The colourful protest attracted huge attention from lunchtime shoppers, many of whom stopped to sign postcards to Barclays chief executive Antony Jenkins. At least 100 postcards were filled in and will be sent en masse to Barclays HQ by the campaigners, and at times there was a queue of people waiting to sign. Barclays responded to the peaceful demonstration by hiring three extra security guards for the day.
If you're in East Kent and want to get involved with the group, email caatekent(at)riseup*net. And if you're part of a local group and want to organise a similar action, email outreach(at)caat*org*uk for help with materials, information, and to link up with others in your area.