Anyone going through Westminster Tube Station can't fail to notice the giant BAE Systems advertisement over the main escalators.
The ad is in a high profile public space, used by commuters heading to and from Parliament, the Foreign Office and Downing Street.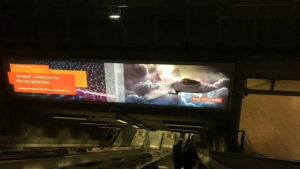 BAE Systems has been a major weapons supplier to the Saudi-led coalition fighting a deadly civil war in Yemen, selling over £25 billion during the 8 years of the conflict. The war has seen over 377,000 dead as  a result of the conflict, including more than 8,000 civilian casualties of the bombing. Saudi Arabia, the UAE and Bahrain are key parts of this coalition.
London CAAT say London Underground should not be taking money from arms dealers for advertising to promote their deadly products. People working in the area should not have to see arms company propaganda every time they travel.
Recently, London CAAT paid Westminster Tube station a cheeky visit, with democracy campaigners from Bahrain and Egypt.
Watch what happened as the "leaders of Saudi Arabia, the UAE and Bahrain" were greeted on the Tube by none other than "Death" himself! 
If you agree with London CAAT, and think arms dealers should not be advertising on the Tube, please sign and share the petition:
https://www.change.org/p/ban-bae-systems-from-advertising-on-london-underground
Find out more about London CAAT here.