'It Starts Here' was an amazing weekend of organising and skill sharing. Thank you to everyone who was there to kick off plans to protest the DSEI arms fair in September.
If you missed it, you can watch It Starts Here online
We were joined by incredible activists from all around the UK, as well as our allies around the world, who sent inspiring messages of solidarity. Our thoughts were grounded from the start in the resistance of those at the sharp end of the global arms trade, with messages from Yemeni activists like Ahmed Jahaf of Sana'a, "We know we are not forgotten because of you. Maybe you are few but you are a lot to us."
Amina Atiq, Liverpudlian Yemeni poet spoke to us ahead of a journey to Egypt, where her Yemeni family have fled. She said, "These wounds take years to heal, some never heal. If everyone does a small thing we can bring change, and we will bring change."
As well as hearing voices of resistance from conflict-affected countries, we were inspired by the solidarity of our friends protesting arms fairs around the world, like Peace Action Wellington, New Zealand, who said they were inspired by the diversity of UK activists' tactics. "It's amazing to feel connected to a global movement. Kia kaha! It means 'stay strong' in Máori."
World Without War activists in South Korea told us how protests to stop the DSEI arms fair inspired their own resistance to stop the ADEX arms fair in Seoul. "The arms industry is so big it can feel impossible to bring them down. It feels like they are everywhere, and they are. But so is our resistance! We hope one day our work will inspire others in other parts of the world."
Arms trade: rooted in many struggles for justice
Our fight to stop the DSEI arms fair is inextricably linked with other intersecting struggles for justice – struggles that It Starts Here called to put front and centre of our action in 2019. The day began with discussions on issues including anti-racism and the increasing militarisation of the UK's borders. Listen again.
West London-born poet and activist Shareefa Energy reminded attendees of the structural violence inflicted on people of colour and the working class in the UK, seen in how Grenfell residents on our doorstep continue to be treated, to how imagery of people of colour is used in media and NGO coverage of conflict in the global south.
"There's a conversation we need to have. Why are people from ethnic minorities dehumanised? Would you ever see English people on a newspaper dead? We need to have these conversations. Until we talk about racism and structural violence, we won't understand why these issues are going on."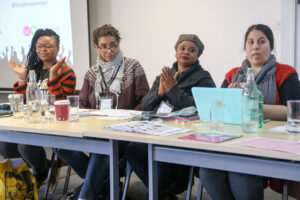 Sarah Reader of Agir Pour La Paix in Brussels, co-founder of Stop The Arms Fair reminded us of how far we have come and what we've built together: "It's amazing to see so many people in the room 6 months before DSEI. 8 years ago there were 8 of us in a room!"
On the 'Anti-racism, migrant solidarity and the arms trade' panel, Sanaz from 'Unis Resist Border Controls' spoke about the links to arms trade and university funding and research. "Many universities invest in arms companies like BAE Systems, G4S. We need to stop this hypocrisy. [We] demand to end investment in the arms trade, in the private firms that fund the violence that creates refugees."
Geraldine spoke from the All African Women's Group, a group of refugees and people seeking asylum in the UK from Latin America, Africa and the Caribbean. "Instead of reaching safety," she said, "We face detention, deportation, and destitution. But we are part of the growing movement calling for justice."
Chrissie from Women of Colour in the Global Women's Strike reminded us that "Many of the people suffering because of the arms trade are black and brown people. The EU response has not been to support people seeking safety, but to stop migration to Europe at all costs." Also representing the Crossroads Women's Centre, Chrissie spoke about the importance of gender: "80% of refugees worldwide are women. We bear the brunt of war. We are the ones that pick up the pieces. But we are not victims, we are protagonists in our struggle, wherever we are."
DSEI: Let's stop it here
The DSEI arms fair is where we can stop arms deals before they start. The last DSEI in 2017 saw the most widespread protests, media coverage and parliamentary interest in the arms fair since the Iraq War. A huge range of groups took action, from queer and environmental activists to academics and faith groups. Over six days, the set up of the fair was disrupted by a huge array of creative and fun actions. Will you help make 2019 even bigger?
We can stop them
Activists have now successfully chased the arms fairs out of Bristol, Cardiff and Birmingham. After the threat of action by Birmingham Stop the Arms Fair, organisers moved the DTPRE arms fair to behind security fences at Farnborough military base. And last year protests outside the Undersea Defence Technology arms fair in Glasgow persuaded Glasgow City Council to promise it would never host an arms fair again. If enough people disrupt the set-up of DSEI in 2019, we can stop the arms fair.
Take action to Stop DSEI 2019
Join the next Stop the Arms Fair gathering in London on the 30th March and find out how you can help stop DSEI.