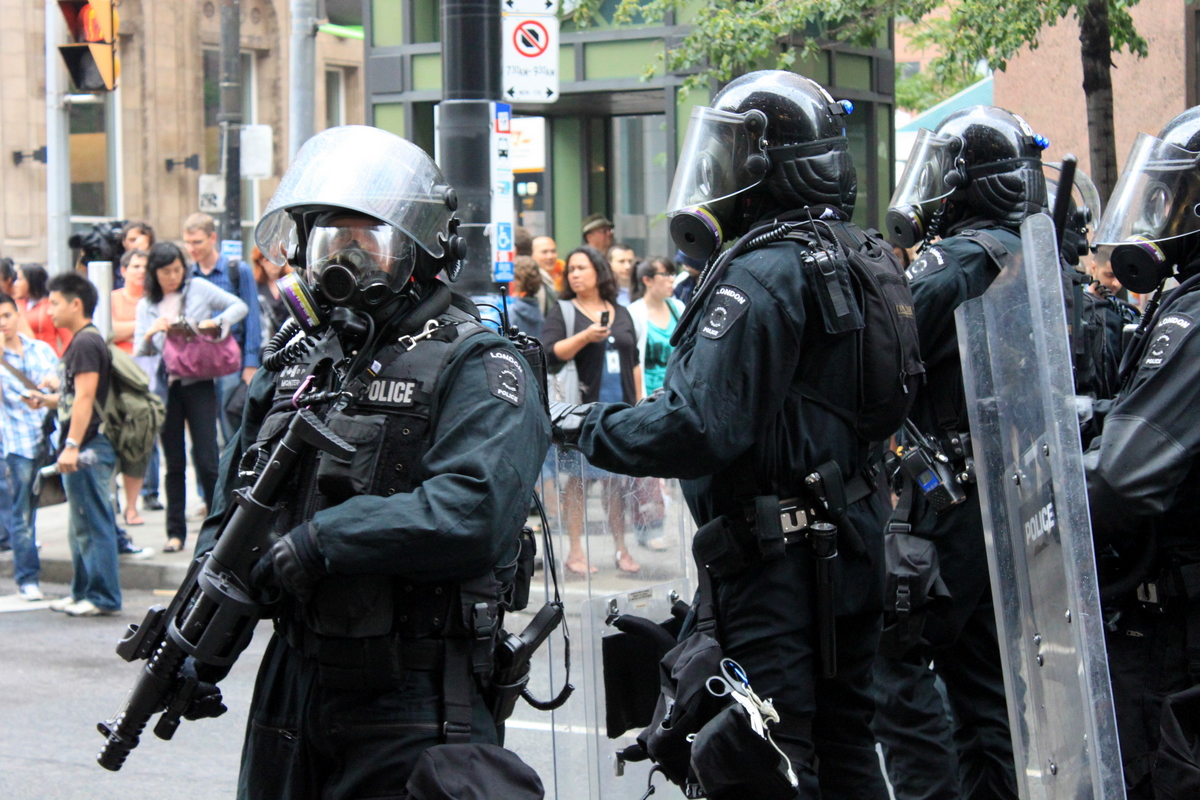 Since the terrorist attacks in Paris, David Cameron has announced plans to increase investment in counter-terrorism police and that thousands of troops are ready to patrol the streets if a similar attack took place in London. The lines between policing, the army and 'security' are becoming blurred and 'counter-terrorism' is being used to clampdown on civil liberties.
In the US, a coalition has been taking action against the militarisation of police and institutionalised racism by targeting a major arms fair: Urban Shield.
Tara Tabassi from War Resisters League shares the work they've been doing below:
Police Militarisation in the US:
Over 1000 people were killed by police in the US in 2015.
50,000 SWAT raids take place each year, approximately 137 raids per day (SWAT are Special Weapons and Tactic teams that dress in military gear and are heavily weaponised. They forcefully enter homes, often throwing grenades first).
The target of police control and brutality in the US is disproportionately Black communities and communities of colour, poor white and homeless people, or people involved in street industries.
Police militarisation is the result of the historical blurring of lines between military and police; war and law enforcement; internal and external security. Police forces rely on control, use of force and cultures of fear; too often communities of colour, or political activists are 'enemies' and dehumanised.
Urban Shield
A focal point for the industry is Urban Shield, the largest SWAT training and arms fair in the US, which has been held in California since 2007. It brings together local, regional, and international police-military units to collaborate on and profit from new forms of surveillance, state repression, and state violence.
Urban Shield's reach is felt globally, with exhibitors including Safariland which exports tear gas and other repressive technologies to Brazil, Bahrain and Canada. Agencies from Israel, Greece, Singapore, Qatar, the United Arab Emirates participated in the past.
Urban Shield appeals to growing fears of climate change emergencies and natural disasters, by selling itself as an "emergency preparedness exercise". However, because it is funded by the Department of Homeland Security, all training scenarios, workshop topics, and vendor goods at the fair are required to have a "nexus to terrorist threats."
Simply put, it functions as an international counter-terrorism conference that sells militarism as the only possible response to climate change disasters and (physical and mental) health emergencies.
The Stop Urban Shield Coalition
The Stop Urban Shield Coalition (SUSC), based in California's Bay Area is a unique example of a cross-community grassroots effort, united to resist domestic militarisation by ending Urban Shield. From local, community-based organisations to national organisations, it includes members from various race, faith, political and social backgrounds, but is led by those most impacted by policing and militarisation. These include Arab and Muslim community organisations, Black migrant organisations, Xicana youth networks and prison abolition activists.
The Stop Urban Shield Coalition calls for "decreasing violence in our communities by ending police militarisation; an end to the use of our communities as testing grounds for tactics of global repression; affirms our right to community self-determination, and calls on our communities to continue fighting back and resisting state violence."
In 2014, Stop Urban Shield successfully pressured city administrators enough that on the first day of Urban Shield, the Oakland Mayor announced Urban Shield would no longer be held in Oakland city borders. This was significant, but of course Urban Shield merely moved to another town near Oakland, still in the Bay Area. Because the coalition's goal is to end Urban Shield and hold our cities and counties accountable in their collaboration in racialised repression, the coalition again organised this year to push city administrators to reject Urban Shield completely.
The coalition used a wide range of tactics, from flooding the organisers with phone calls, emails and letters; to blocking traffic with guerilla theatre; to town hall debates and public education events to rallies outside the Sheriff's Office.
The alternative to policing and militarism is community resilience and power. An example of this in Oakland, California context is the People's Community Medics – run by two older Black women who trained in basic medical care after seeing young members of their community bleed out on the street because the police refuse to call for ambulances after shooting them. People's Community Medics train communities in how to care for each other in the face of the state's disregard for people's well-being and survival. This can be training in treating gunshot wounds and seizures, or minimising effects of tear gas and tasers for protesters. Given how Urban Shield militarises health industries and emergency respondents, empowering and training community driven medics is part of responding to the current reality, while also strengthening community self-determination and building the kind of world we need and want.
The campaign to Stop Urban Shield is a way of delegitimising US militarism and challenging the military industrial complex, as well as building consciousness of how we can create a world based on trust and visions of real community safety, and not those built on murder, oppression and state control.
In March 2016, the Home Office and the UK arms industry trade body are holding 'Security and Policing'– a secretive event aimed at both UK and international government buyers. The government's arms sales unit, UKTI DSO, is responsible for inviting international delegations. Join the planning meeting on 21 January in London to find out how to take action against it.