The beginning of CAAT's designated "Stop the Arms Trade Week", 2nd June, coincided with activities organised under "The World Can't Wait" banner and London CAAT produced a small leaflet to tie in issues of poverty, lack of development and the more than £1118 billion spent annually on arms, which puts into pathetic perspective the amounts the G8 promises and does not deliver to the world's poorest countries.
A few of us headed down to Archbishop's Park by Lambeth Palace and later to the banks of the Thames, to offer our support to the idea of "waking up the G8". Dressed in white and packing alarm clocks, bells, horns and drums, the protesters were up for it. At 2:00, Westminster Bridge, Lambeth Bridge, the banks between them and even boats on the river resounded with unheeded wake-up calls.

On Monday we unpacked our stall in Islington and the second person to sign our "Reopen the Saudi Inquiry" petition claimed that it was all "bullshit" anyway because all the politicians were the same. I repeated a line I heard at a comedy show a couple of nights previously, when one of the performers said he didn't mind politicians taking money from corporations as long as they had to wear the companies' names on their suits (F1 style). He laughed and left.
It was strange that he'd made the effort to come over to our stall uninvited, even before we'd finished setting up, in order to sign, but tell us it was pointless at the same time. In contrast, most people tried to avoid our eyes (perhaps fearing we were signing people up for monthly direct debits) and quickened their pace but many relented when they heard "anti-arms trade" and stopped to sign and take a postcard to send to their MP.
I'm sure none of the members of the London CAAT group who turned out to get signatures (and pick up flying leaflets whenever the wind blew too hard for the paperweights to deal with) really thought that we'd actually stop the arms trade this week with our actions, but "bullshit" it ain't. It's only people pressure that gets companies like Reed Elsevier to reject the arms trade.
On Sunday 10th June, after three days of reporting on the BAE case and the cover-up of £1bn in payments to Prince Bandar of Saudi Arabia, getting signatures for our petition at the Stokefest event in Clissold Park was a little easier. People who had the option of watching bands, fashion events, or getting involved with any number of other activities chose to come over and chat about corruption in arms deals.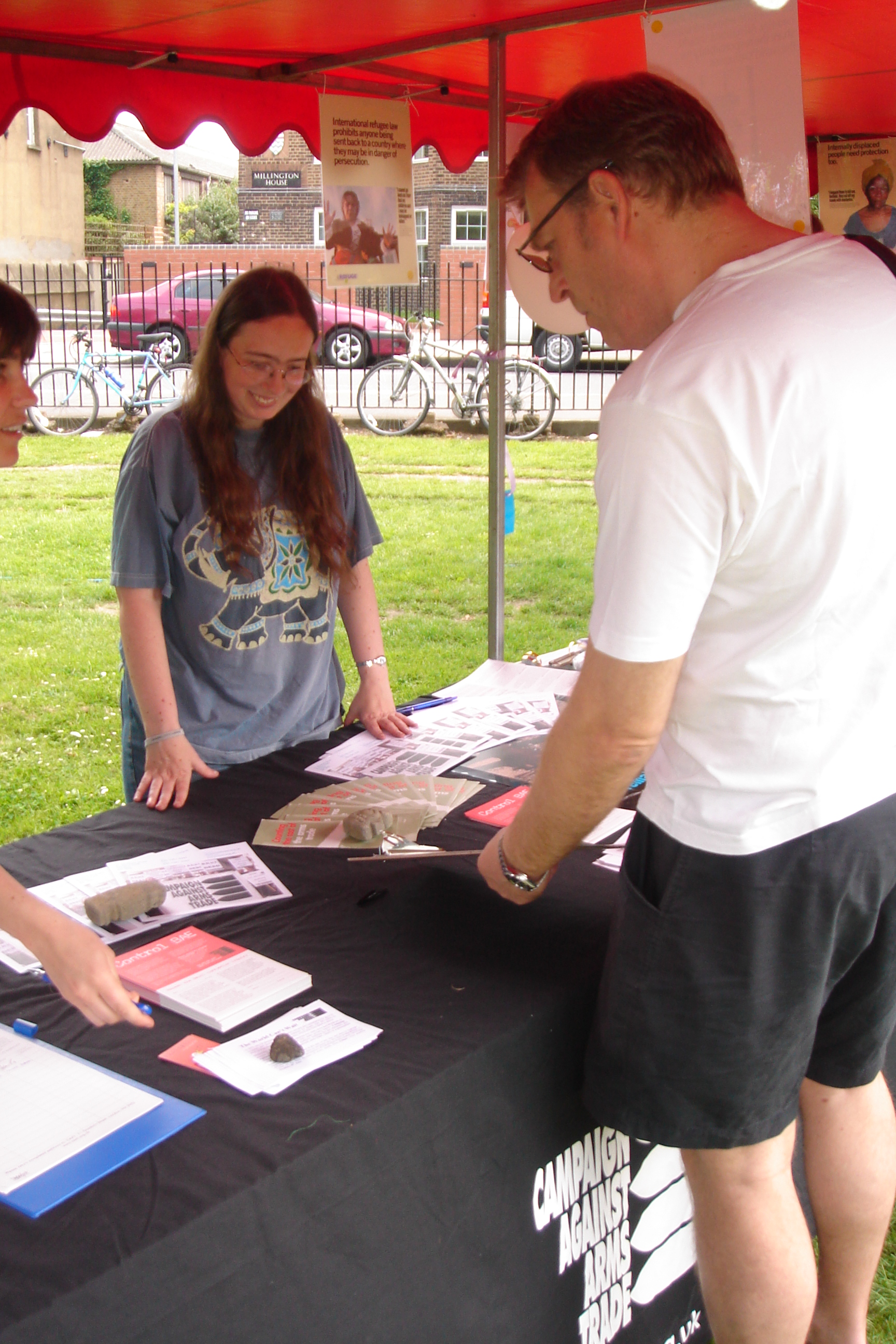 It helped that our stall was next to Amnesty International's (there was a certain amount of overspill) but people clearly felt there was mileage in the case yet. Hopefully, the week will result in many more postcards being sent to London MPs and CAAT getting a few more members. As for the end of the arms trade? Maybe next year.