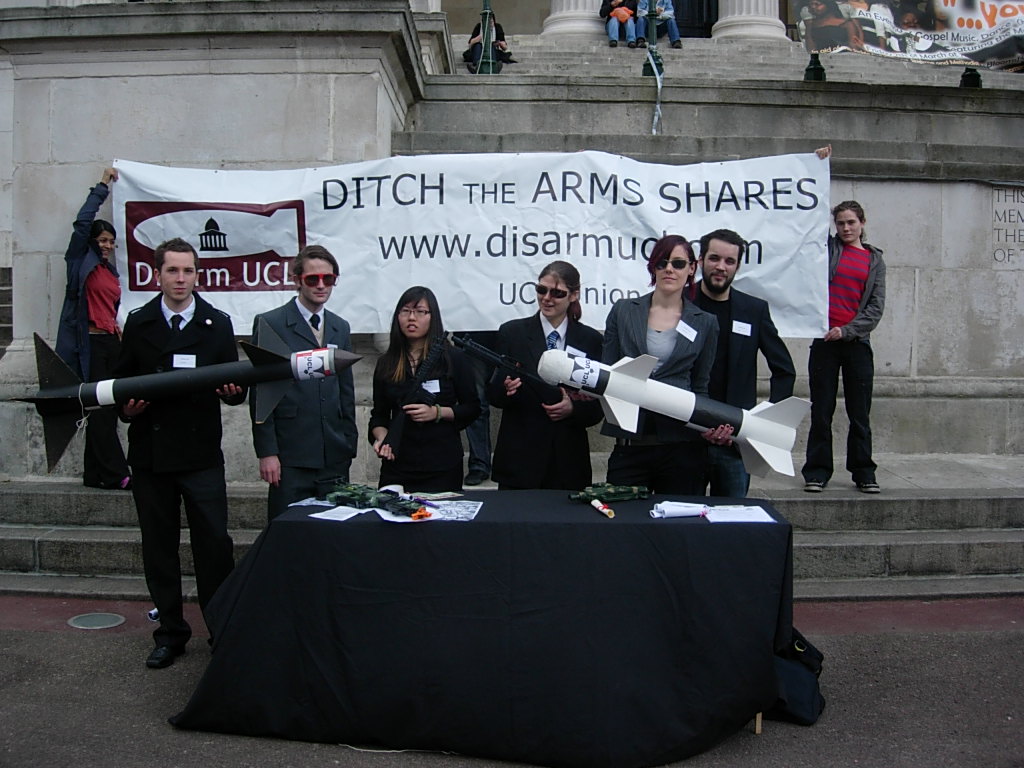 Katherine O'Mahoney, Universities Network Volunteer writes:
Anti-arms trade campaigners will be shocked and disappointed to learn of the launch of University College London's (UCL) new £17m Security Research Training Centre – or UCL SECReT. Funded by the Engineering and Physical Sciences Research Council (ESPRC), the multidisciplinary centre will recruit between 10 and 20 PhD students each year to research a range of subjects relating to crime and security. And, in its ambition to become one of the world's leading centres of expertise for security and crime science, UCL SECReT has partnered with arms companies BAE Systems, Thales and Lockheed Martin.
This year student group Disarm UCL successfully lobbied for the university to adopt an ethical investment policy which should result in the exclusion of arms shares from the university's portfolio.

But despite UCL agreeing to the new policy, UCL SECReT claims to have a "shared vision" with its partners, including BAE Systems which was recently at the centre of the Saudi arms deal scandal and continues to be the subject of corruption investigations in many countries.
Arguments that the arms companies will be on the periphery of student life are negated by the centre's own website. Here, the centre offers partners "an active role in one of Europe's largest research centres" and the "opportunity to recruit the brightest young researchers in the field."  The partners will also benefit from research relevant to "their agenda" and will gain interns to allow "easier flow into career paths." If you want to see for yourself go to: http://www.ucl.ac.uk/secret/homepage
This open attitude to arms companies on the part of a university which recently conceded to student demands for ethical investment, will be seen by many people as, at best, the left hand not knowing what the right hand is doing: at worst, as hypocrisy. UCL should take its ethical commitments seriously and recognise that they extend not just to which companies they invest in, but also sources of funding.  The establishment of SECReT means that a back door has been constructed – a door now permanently propped open to BAE Systems and other arms companies.