Disrupting arms company recruitment is an effective way to challenge the arms trade. Arms companies rely on hiring graduates to keep their business going. This makes universities an obvious recruiting ground, as there are many people who will soon be qualified and looking to start a career.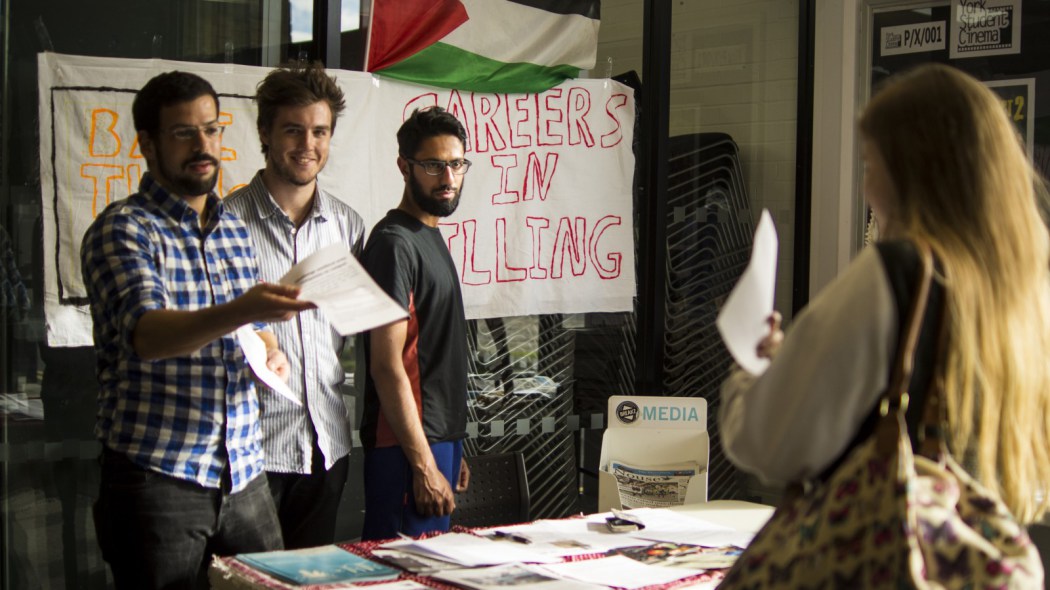 This term a number of arms companies have tried to recruit students at universities all over the UK, but they have been met with fierce opposition.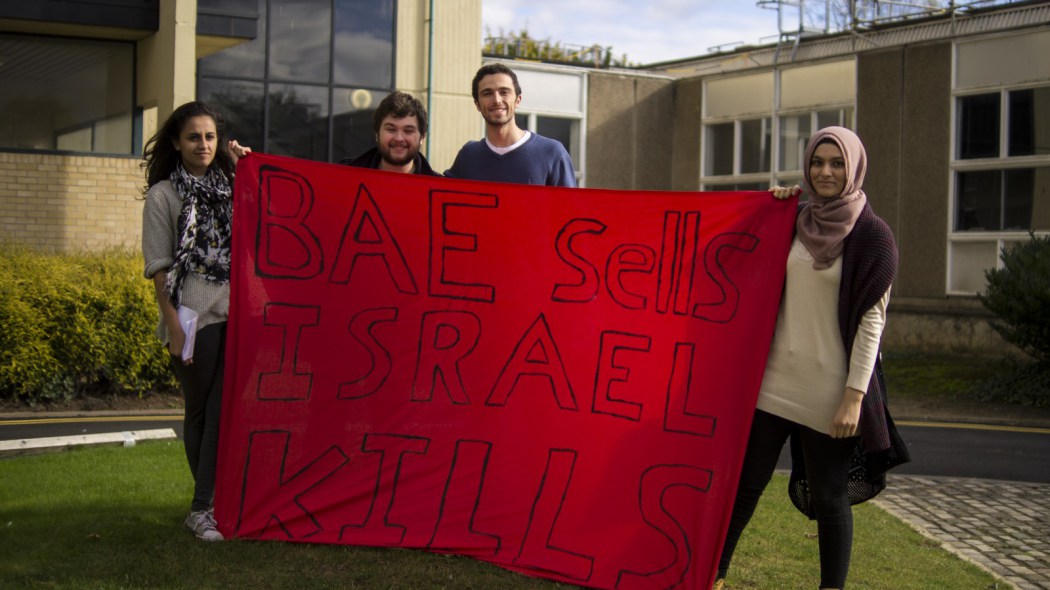 York

University of York students, including the Palestine Solidarity Society, started a petition to their careers service calling on them to revoke arms companies' invitations to a careers fair. After a meeting, the careers service agreed to let students have an information stall in the fair. They handed out flyers and had a protest outside the fair, with banners. Arms company Thales left early, despite having paid hundreds of pounds for a stall.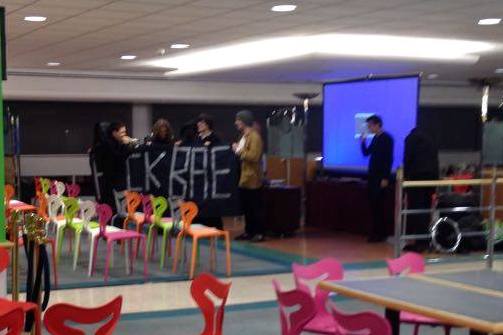 Warwick
Students leafleted against BAE Systems at a careers fair in October. It was a joint action between the Warwick People and Planet, Friends of Palestine, and Free Education groups.
BAE Systems returned to Warwick just a few weeks later to hold a presentation and networking recruitment event on the campus. After less than half an hour of protesting by students from Fossil Free Warwick and Warwick for Free Education, the event was called off. The use of university building for arms company recruitment was met with opposition from students in the form of a protest inside the event, with a banner and chants of "BAE off campus!" and "when I say arms trade, you say death trade".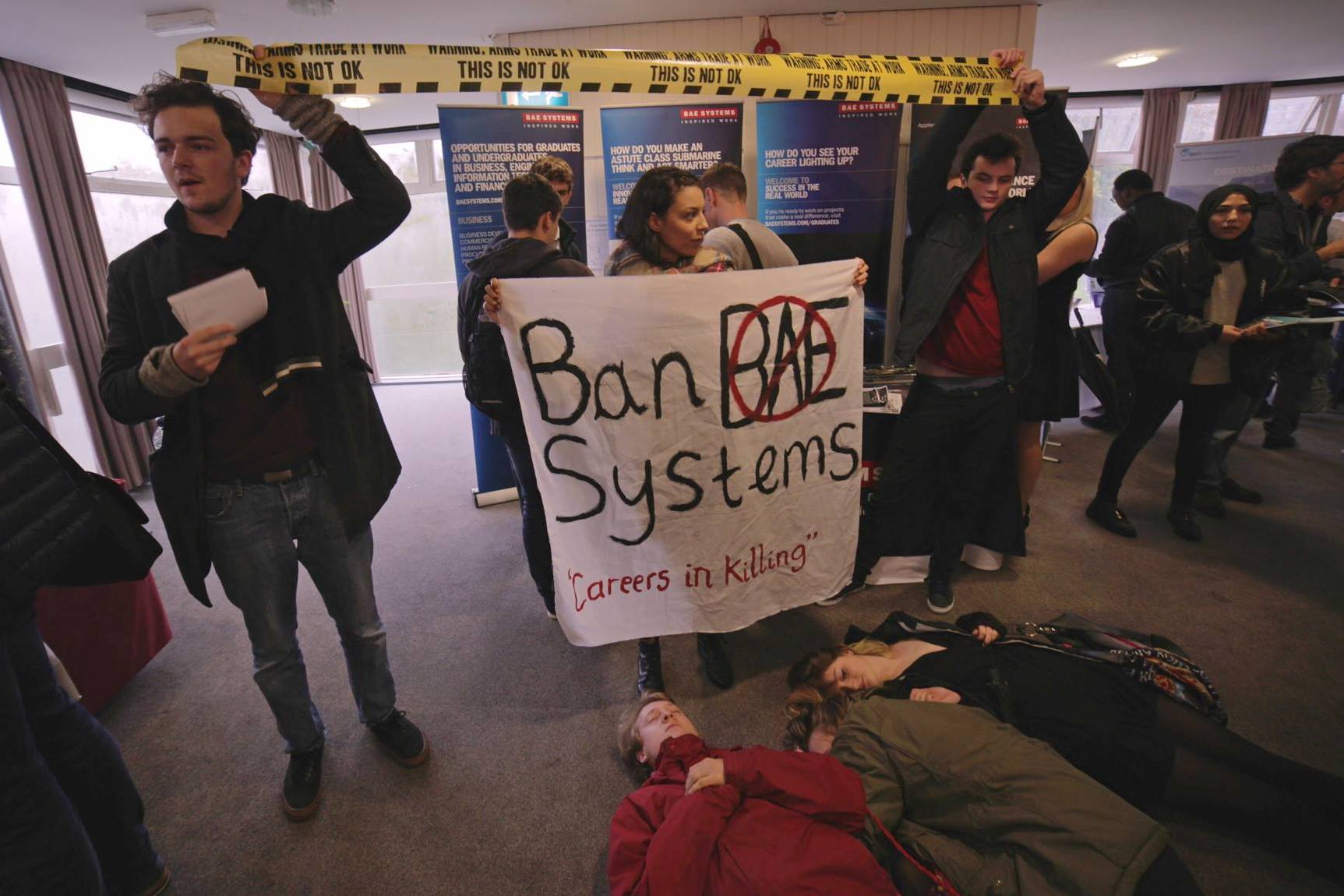 Southampton
Students in Southampton had a die-in in front of a BAE Systems recruitment stand. Students lay on the floor to draw attention to the "careers in killing" and to make it harder for the recruiters to talk to students. Other campaigners handed out leaflets and talked to students to raise awareness of issues around the arms trade.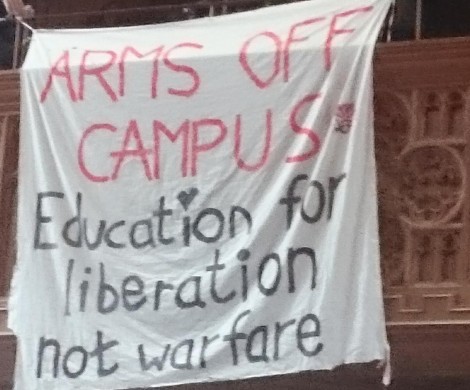 Bristol
Students in Bristol managed to hang a banner reading "ARMS OFF CAMPUS. Education for liberation not warfare" from a balcony inside the careers fair where BAE Systems, Qinetiq, Airbus and Boeing were trying to recruit students. The Bristol Left group also had a stall at the careers fair so they could give information to students who may not know about the arms companies who were in the building.
Lancaster
Lancaster students managed to get into a careers fair where BAE Systems were trying to recruit students. One student laid down pretending to be dead, draped in a red shroud, while other students loudly read a statement denouncing the use of BAE's weapons against civilians in Yemen. Other students leafleted outside, so students could be better informed about the arms companies trying to recruit them.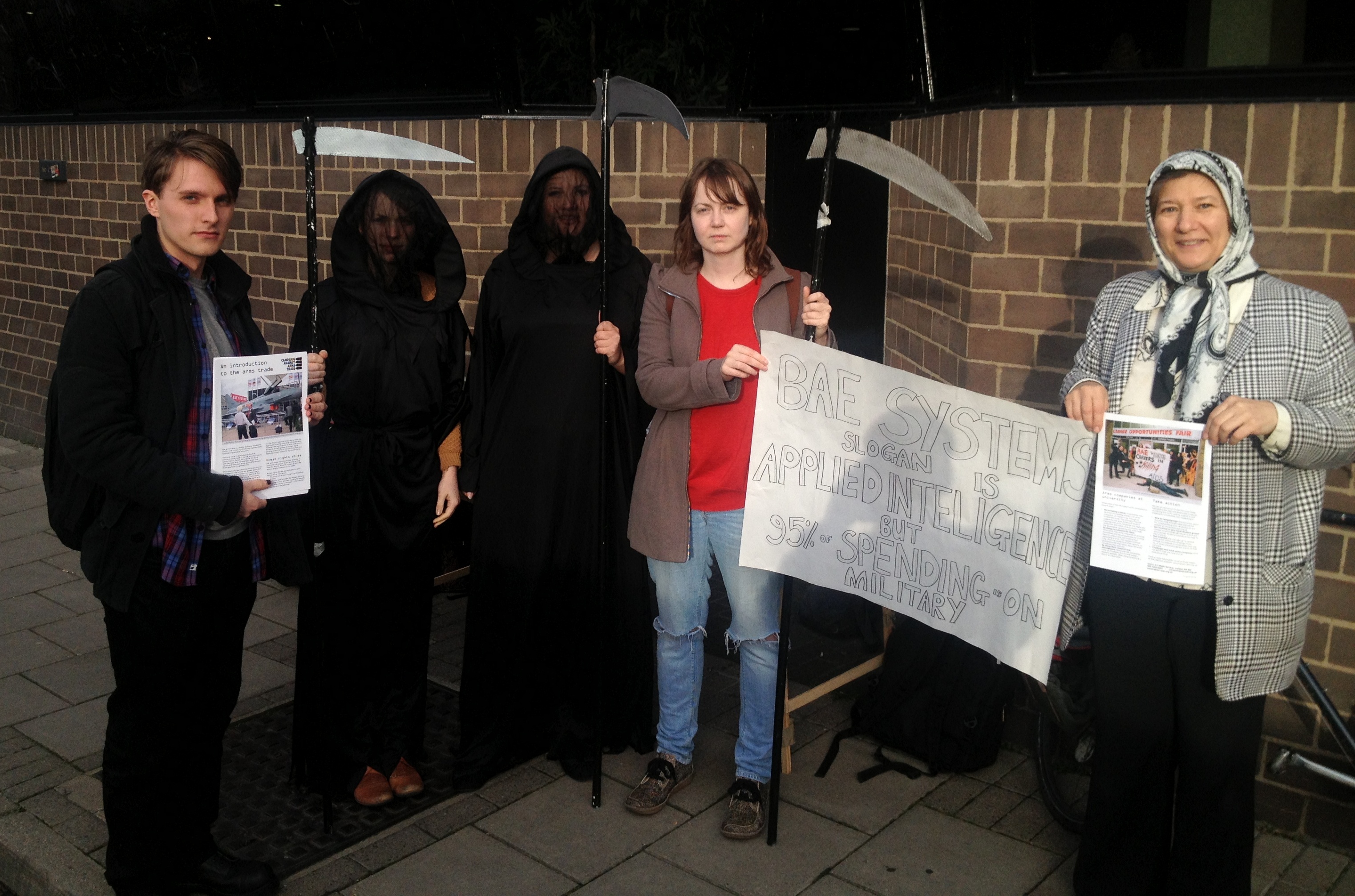 Cambridge    
Campaigners spent an afternoon at a careers fair dressed as grim reapers to draw attention to the "careers in killing" being promoted by BAE Systems and Rolls-Royce at the fair. Other students had a stall and handed out information. The protest was organised by CAAT, Cambridge Stop the War, and Cambridge Students Against Cuts, but the message that universities shouldn't be hosting arms companies and giving them a platform for recruiting resonated with a lot of students attending the fair, several of whom joined in the protest. Students pledged to write to the University of Cambridge careers service to tell them that they are not happy with arms companies being hosted at the fair. Two of the campaigners had a meeting with the careers service director, to talk about how students can be better informed about their career options and given a wider range of ethical job options.
Students will be continuing to challenge the arms trade at universities next term. To find out more visit https://caatunis.net.