Challenging arms dealers in London and Seoul
This week I watched a video that really made my day. It was  made by activists in South Korea who had taken action against the 'Seoul International Aerospace & Defence Exhibition' – also known as the ADEX arms fair.
https://player.vimeo.com/video/80523277
The video made me the happiest I've felt in a long time about taking action against the arms trade. This wasn't just because it was a great video with impressive actions, catchy music and a cheeky cameo by Arnie Schwarzenegger, but rather because as I was watching it, quite a few of the actions were familiar to me.
The ADEX arms fair started on 28 October, less than two months after the DSEI arms fair took place in East London. During that time, 22 civil society organisations in South Korea held a series of actions targeting the fair.
Watching the video, it was clear that the activists had drawn on some of the ideas of actions we had organised at DSEI – and improved them! They had grim reapers meeting and greeting arms dealers, organised impressive banner drops, held die-ins, and even had the same slogans on their banners!
Not only was it great to see some of our actions replicated in a different country, but the ADEX video has also given us some ideas for challenging DSEI in the UK. For example, they organised a powerful Peace and Disarmament Exhibition outside the arms fair and we could do something similar here.
One of the best things about the video, was footage of activists inside the fair standing next to weapons with t-shirts which said 'how many people can it kill?' on the back (confusing arms dealers in the process).
Unfortunately we couldn't get anywhere near the inside of the UK arms fair, but we did stand next to arms dealers travelling in and on their way to their networking dinners with helpful t-shirts pointing them out to passers-by.
There's something amazing about having stood outside the Cutty Sark dressed as a grim reaper with a banner saying "Arms dealers here today. This is not OK" as arms dealers arrived for their dinner, and then seeing activists holding a banner with the exact same message outside the arms dealers' hotel in Seoul.
Since starting this article, I have found out that the South Korean activists chose the slogan deliberately, so that if any arms dealers who had been at DSEI also went to Seoul, they would know that "we are everywhere".
The ease and speed of communication which enabled the South Korean activists to find out about our actions, and for us to find out about theirs, would not have been possible without the use of social media and the web.
As Symon Hill lays out in his book Digital Revolutions, the internet has played a really interesting and exciting role with recent protest movements around the world, facilitating the spread of actions inspired by those happening in other countries, such as the Indignados movement in Spain, Occupy Wall Street and Occupy London.
Being able to share stories, send messages of solidarity and communicate what's really going on in different countries, which the mainstream media won't portray, is really powerful. It means activists can communicate with each other directly and cut through the hierarchy and bureaucracy of traditional media channels. We can share photos and videos instantly, learn new tactics and build relationships with activists fighting similar struggles around the world.

Social media tools such as Facebook and Twitter enable activists in different countries who have never met before to follow each other's activities and be inspired and excited by what they find out.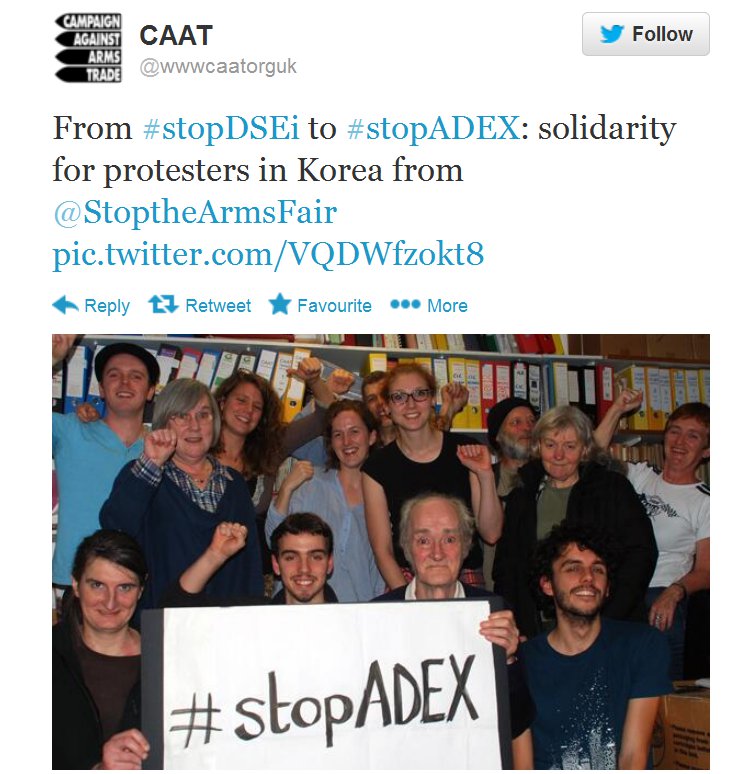 In terms of tackling the UK government's role in the arms trade, rather than feeling like a small group of people tackling an impossible problem, we can feel linked in with others who are building an effective movement to de-legitimise the arms trade wherever it manifests itself.
I know I'm not alone in feeling excited by having heard about the actions that took place in Seoul. Rather than losing momentum now that DSEI is over, the video made me feel energised about continuing to take action against the arms fair.
Both DSEI and ADEX are threatening to return in 2015 – unless we can stop them.