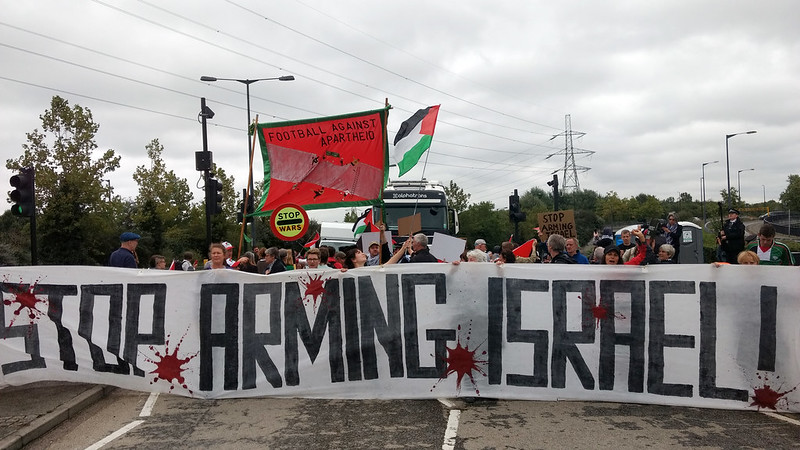 This week the Israeli government is expected to begin its immoral and illegal annexation of the West Bank. This follows years of increased tensions and atrocities: including shootings at protests on the Gaza border in May 2018.
Reports from health officials in Gaza say that Israeli forces killed at least 214 Palestinians throughout the 2018 protests. Last month Israeli forces killed the nephew of a senior Palestinian official at a checkpoint in the West Bank.
Despite ongoing abuses, and the threat of annexation, UK arms sales to Israel have continued unabated.
Since 2015, the UK has licensed over £376 million worth of arms to Israel. Licences include:
£183 million worth of ML22 licences (military technology)
£98 million worth of ML10 licences (Aircraft, helicopters, drones)
£16 million worth of ML4 licences (Grenades, bombs, missiles, countermeasures)
£4.6 million worth of ML6 licences (Armoured vehicles, tanks)
£1.8 million worth of ML3 licences (ammunition)
£1 million worth of ML1 licences (small arms)
This will be an underestimate as there are also 31 Open Licences to Israel. These are mainly for aircraft equipment. Open Licences allow for an unlimited number of exports, so the real figure is likely to be significantly higher.
There is every chance that these weapons will be used. A review by the government at the time found 12 licences for arms which are likely to have been used in the 2014 bombardment of Gaza. Likewise, in 2010 the then Foreign Secretary David Miliband said that UK-made arms had "almost certainly" been used in the 2009 bombing campaign.
We stand in full solidarity with the Palestinian people. The annexation plan is immoral and illegal. It will increase tensions and lead to further violence and bloodshed. Without justice there cannot be peace, and this land-grab will only add to the injustice and oppression of Palestinians.
By continuing to arm and support Israeli forces the UK government is making itself complicit in the atrocities that it is inflicting. UK-made arms have been used by the Israeli military before, and it is likely that they will be again. These arms sales do not just provide military support, they also send a very clear sign of political support for the daily abuse that is being inflicted by the occupation. 
Time and again, successive UK governments have put arms sales ahead of the rights and lives of Palestinians. The stakes could not be higher. There must be an end to the arms sales and the message of support that they send.
For more information about the annexation and ways to show your opposition, please support our friends at the Palestine Solidarity Campaign.
For more information about the role that universities across the UK are playing in enabling the occupation, visit out friends at the Apartheid Off Campus network.