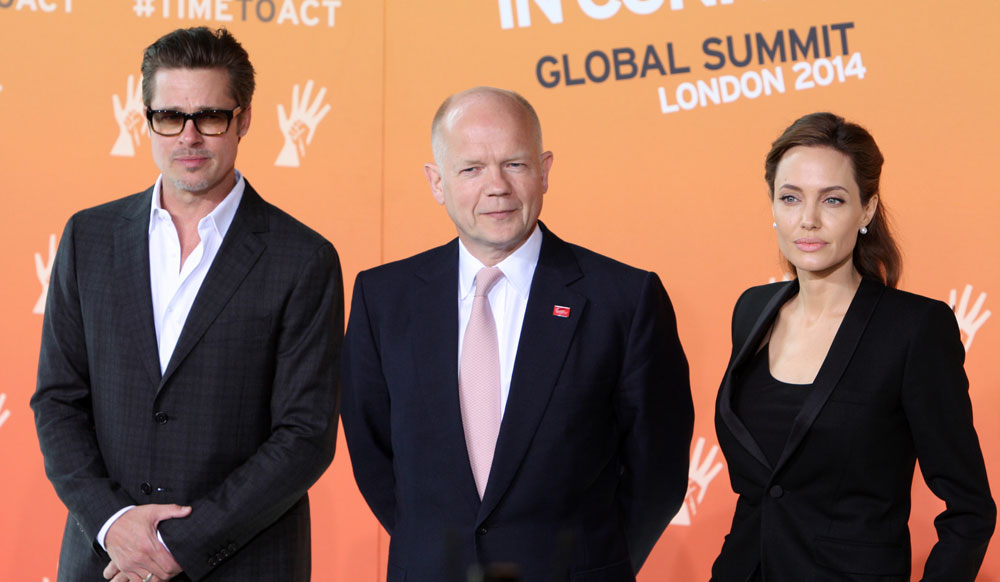 From Foreign and Commonwealth Office's flickr stream under a Creative Commons Attribution 2.0 Generic license (CC BY 2.0)

It was a surreal sight to see Foreign Secretary William Hague posing with Hollywood's most famous couple, Brad Pitt and Angelina Jolie at the recent high profile Global Summit to End Sexual Violence in Conflict.
Responding to media accusations that he was "hobnobbing" and "starstruck", Hague defended the importance of his role at the summit, telling Radio 4 listeners that "this is about conflict prevention."
So let's take a look at Hague's record on conflict prevention.
Arming autocrats, fuelling conflict
In early 2011, as protests across the Arab world were met with brutal state repression, the spotlight was turned on Britain's arms sales to authoritarian regimes. William Hague announced a review of the UK's arms export policy, and a parliamentary committee pointed out the obvious incompatibility between promoting arms sales and upholding human rights.
But seven months later when Hague presented the review's conclusions, he declared that "there are no fundamental flaws with the UK export licensing system". His review was a whitewash, and the UK continued selling arms to repressive regimes.
In the time since the Bahraini government began its brutal crackdown against those protesting for freedom and equality, the UK government has approved arms sales to Bahrain worth more than £24 million. Since the start of popular uprising in Egypt, the UK's arms exports to Egypt have increased tenfold.
Supplying arms to conflict zones and repressive regimes helps to create environments in which rape is used as a weapon. The Egyptian Commission for Rights and Freedoms reports that "It has become more and more common to hear from detainees that they were sexually assaulted or harassed" by the police.
And last September, Amnesty and Human Rights Watch reported that sexual violence and the threat of it is also used against activists by security forces in Bahrain. Yet when Hague delivered a speech in Bahrain three months later, not only did he fail to mention this, he praised the king's leadership and pledged the UK's "staunch friendship".
Opposing arms embargoes
The UK supplied arms to Gaddafi's regime right up until security forces started killing protesters in the streets. No sooner was Gaddafi ousted than Hague lobbied the UN to relax its arms embargo so that Britain could begin selling arms to Libya again. The government's motivation was perhaps revealed when junior defence minister Gerald Howarth said: "frankly I want to see UK business benefit from the liberation we've given to their people."
Last year, against the wishes of most European countries, William Hague scrapped the EU's arms embargo on Syria so that the UK could arm rebel groups. And despite grotesque human rights violations being carried out by el-Sisi's regime, Hague continues to ignore calls for the UK to stop selling arms to Egypt.
The Summit to End Sexual Violence in Conflict took place in London's ExCeL centre, which is also the venue for DSEI, one of the world's largest arms fairs. It is Hague's department that approves the invitation of delegations from authoritarian regimes to the arms fair, including several that even the Foreign Office deems to have "the most serious wide-ranging human rights concerns".
One such "Country of Concern" is Sri Lanka, with "reports of sexual violence and rape by military forces." Hague "encouraged" Sri Lanka to take part in the summit on sexual violence, but did nothing to oppose the UK government's approval of over £37 million of arms exports to Sri Lanka in the last year alone. Meanwhile, the government is deporting a woman who was repeatedly raped by Sri Lankan soldiers back to Sri Lanka.
Military interventions
William Hague voted for the invasion of Iraq, and continues to argue that the invasion was not a mistake. And yet the sexual violence meted out by guards at Abu Ghraib, the rapes carried out by coalition forces; and the increase in sexual violence against Iraqi women stemmed from that decision.
Hague also argued for British military intervention in both Libya and Syria. For someone who talks about conflict prevention, he seems remarkably keen on taking military action.
Making a difference
The issue of sexual violence in conflict is very important and needs urgent international action. The recent summit was an important step, but it is hypocritical for William Hague to pose as a champion of the cause given his record of facilitating arms exports to authoritarian regimes, supporting human-rights abusing dictatorships, and pressing for military interventions.
If the UK government is serious about ending sexual violence in conflict, there are significant things it could do right now that would make a huge difference:
Stop promoting arms exports. The arms trade fuels conflict and supplies dictatorships with the tools of repression, thereby creating environments in which systematic sexual violence takes place.
Stop supporting abusive regimes. The UK's political support for authoritarian regimes such as Bahrain confers legitimacy on them and lets them get away with continuing to abuse their citizens.
End military interventions. The UK's foreign wars have caused untold suffering and human rights abuses, including sexual violence.
For a long time the UK government has stuck rigidly to a foreign policy that is based on militarism and political calculation rather than promoting democracy and human rights. Political leaders like Hague have always been happy to be photographed with celebrities, but have rarely been willing to stand up to the interests of the arms companies and the forces that promote conflict.