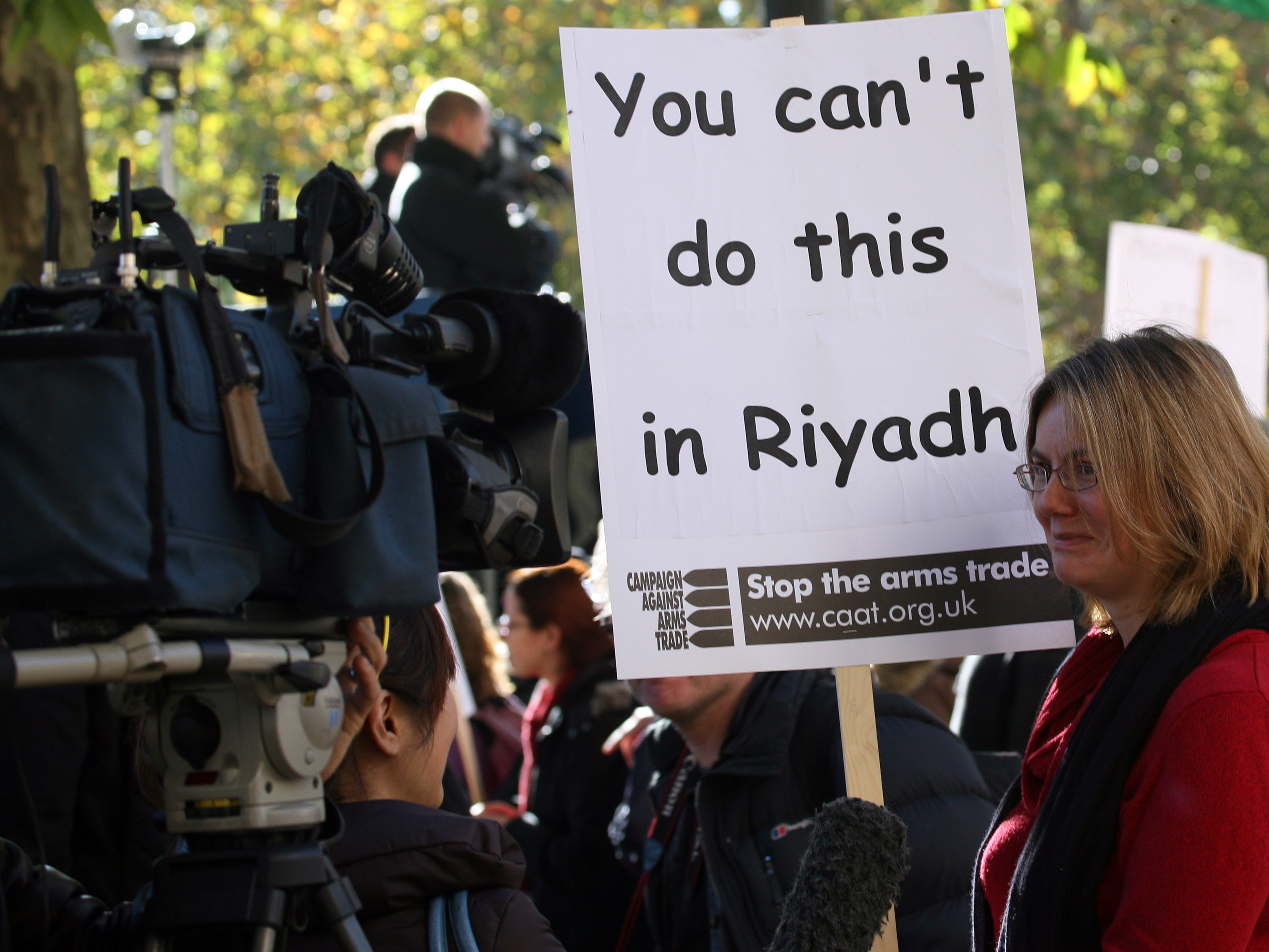 credit Geoff Woolf

The news from Saudi Arabia that the authorities intend to surgically paralyse a young man as a judicial punishment has led to worldwide revulsion. The logic behind the punishment is that ten years earlier Ali al-Khawahir had stabbed a friend in the back resulting in his paralysis and therefore should suffer the same fate.

Ali al-Khawahir could escape this living punishment by paying blood money of around £170,000. His family cannot afford it. He has already spent ten years in prison, which in most countries would be considered excessive punishment for someone so young when the offence was committed.
Amnesty International says that the punishment is classified as torture. Protests have come from Islamic scholars, even from a member of the Saudi Royal family (on Newsnight, 4 April). So what is the UK government doing to protest this vile act? The answer is words: A Foreign Office spokesman said: "We are deeply concerned….We urge the Saudi authorities to ensure that this grotesque punishment is not carried out. Such practices are prohibited under international law and have no place in any society."
However, as the BBC News website stated: "Successive British governments have struggled at times to harmonise their concerns about human rights in Saudi Arabia with the fact that the Kingdom remains a key ally and a major customer for British weaponry."
Stop the arms sales!
In fact, Saudi Arabia is the UK's largest arms customer and is listed as a "priority market" by the UK Trade & Investment Defence & Security Organisation, the government's arms sales unit.
It's not that the Saudis are coming begging to the UK to buy arms. The UK actively courts them and pleads with them to do so.
So the government sends high-powered official delegations. Prime Minister David Cameron has personally led delegations of arms company executives to meet with Saudi leaders. A few weeks ago Prince Charles was there, holding polite tête-à-têtes with Saudi royals. Year after year, the UK has rolled out the red carpet for Saudi delegations at Farnborough arms fair and Defence & Security Equipment International (DSEI). No doubt the Saudis will be guest of honour at the DSEI scheduled for September.
So if weasel words won't influence the brutal Saudi regime, what will? How about cutting off the supply of UK weapons? Campaign Against Arms Trade has for years been highlighting the pernicious effects of arms sales to Saudi Arabia and other brutal regimes, who go on to use the weapons to abuse their own people and their neighbours. We say:
No more arms exports to Saudi Arabia
No more invites to Saudi military and official delegations
No more military or arms sales missions or royal visits to Saudi Arabia
If you feel as strongly about this as we do, please write to your MP to express your views.
Update: 10 April
The Saudi government has now announced that the punishment will not be carried out  – in fact, such reports were completely false. So nothing to do with the worldwide outcry then!
By the way this week the Economist released its annual Democracy Report. Guess what? Saudi Arabia has slipped from 161 to 163 out of 167 countries. Unlike North Korea, Chad and Guinea Bissau at the bottom of the scale it is not desperately poor, nor is it engulfed in a bloody conflict like Syria. It is just despotic, abusive, sexist, racist, unfair and unjust. Not a place that a democratic country should ever consider selling weapons to.