The UK government spends about £46.6 billion a year on the military, according to figures provided by the UK to NATO, or 2.1% of GDP.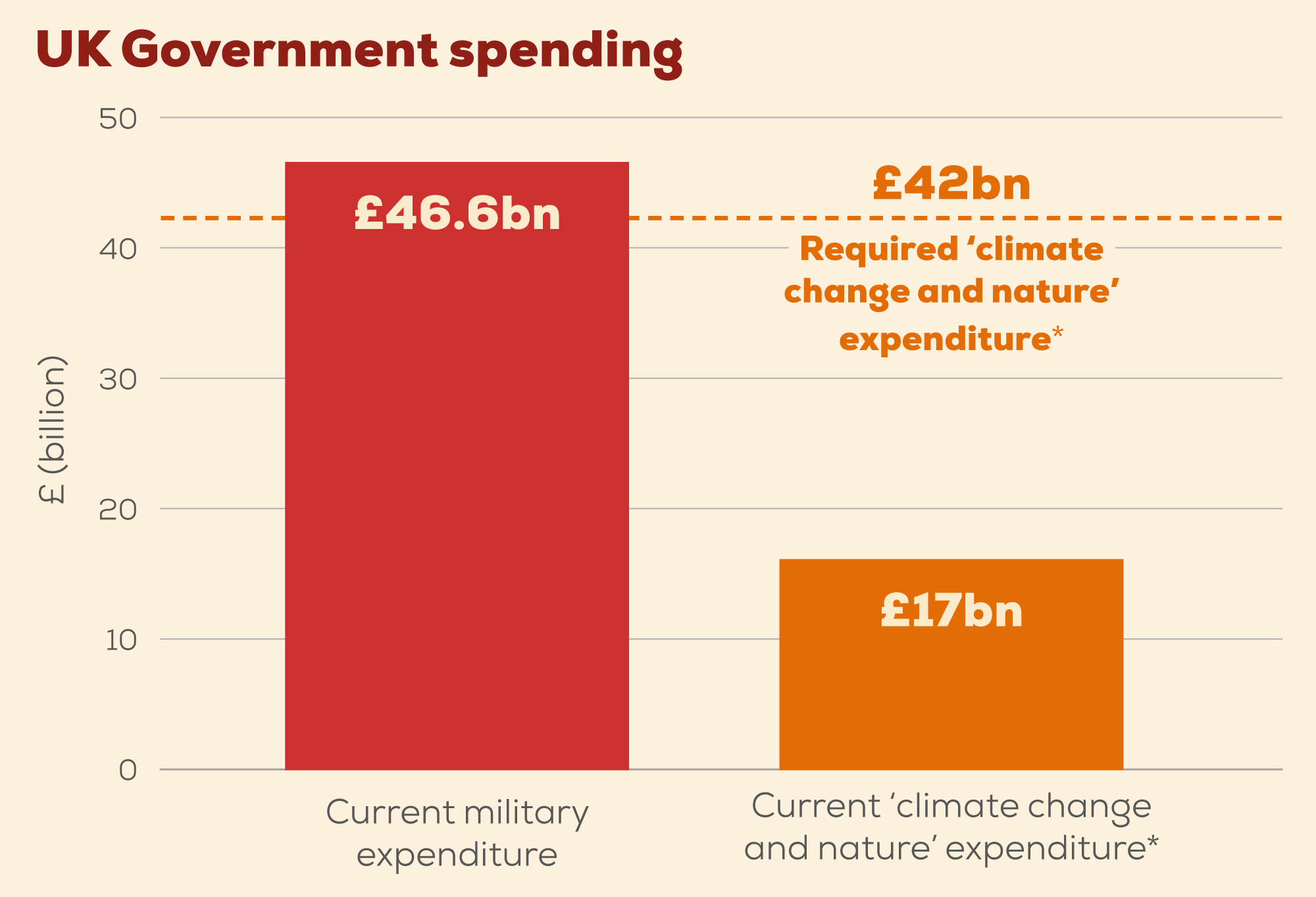 After several years of relative austerity, this military budget is now firmly on the rise, with a 10% real-terms increase since 2015, and more increases promised.
How much, in comparison, does the UK spend on preventing climate change? There are no official figures, but a recent report by an NGO coalition* estimated annual spending on "climate change and nature" to be £17 billion, which they called to increase to £42 billion.
"The first duty of government is the security of the nation and its people" – such clichés are frequently trotted out in Government military and security policy documents; but the "security" in question is almost always seen in terms of state security, centring on the military and other "hard" security tools (such as border control).
This militaristic outlook is not simply about defending the UK from military attack – a remote prospect as even the government admits – but about using armed force to attempt to solve a wide range of problems, be it terrorism or regional tensions and conflicts.
This approach has led to a series of disastrous military interventions that have made the problems they sought to address far worse. It also reflects the idea that military power is the key to the UK's status in the world, with ministers seeing a global military presence at the core of "Global Britain" post-Brexit.
But "security" does not have to be seen in these terms. A focus on sustainable, human security would reinterpret the "first duty" of government in terms of ensuring the security of people in the UK – and, inseparably, of people around the world – from the threats they actually face, which are overwhelmingly not susceptible to military "solutions".
Most importantly, by far the biggest and most urgent threat to people's security, including in the UK, is climate change, which is already causing catastrophic damage and loss of life worldwide. Yet, while the government has accepted a target of reducing the UK's net carbon emissions to zero by 2050 (which many see as too slow), it has not backed this up with the policies and resources needed to achieve it. The government's own Committee on Climate Change (CCC) warned this year that the UK is missing almost all its targets for carbon reduction.
The CCC estimates that achieving net zero by 2050 would require investment of between 1–2% of GDP per year. Yet this is seen as unrealistic by a government that sees 2% of GDP as the absolute minimum to be spent on the military, to meet NATO's 2% target for its members – with ministers (backed by the arms industry and its supporters) calling for far higher spending. This represents a distorted set of priorities, fuelled by a distorted, militaristic view of security, which urgently needs to change. Right now, the first duty of every government should be tackling the climate crisis.
'Fighting The Wrong Battles – How Obsession With Military Power Diverts Resources From The Climate Crisis' is a new report by Dr Sam Perlo-Freeman. Read the full report