Security and Policing is an annual event organised by the UK government's Home Office and the arms industry trade body, ADS. The event is a place where arms, border, policing and surveillance companies work and exhibit equipment and technologies together. Government delegations from across the world are invited by the the government's arms sales unit, Defence & Security Organisation (DSO), and so the fair is an opportunity for relationships to be built and developed between these industries that work so closely together, but also with governments and states.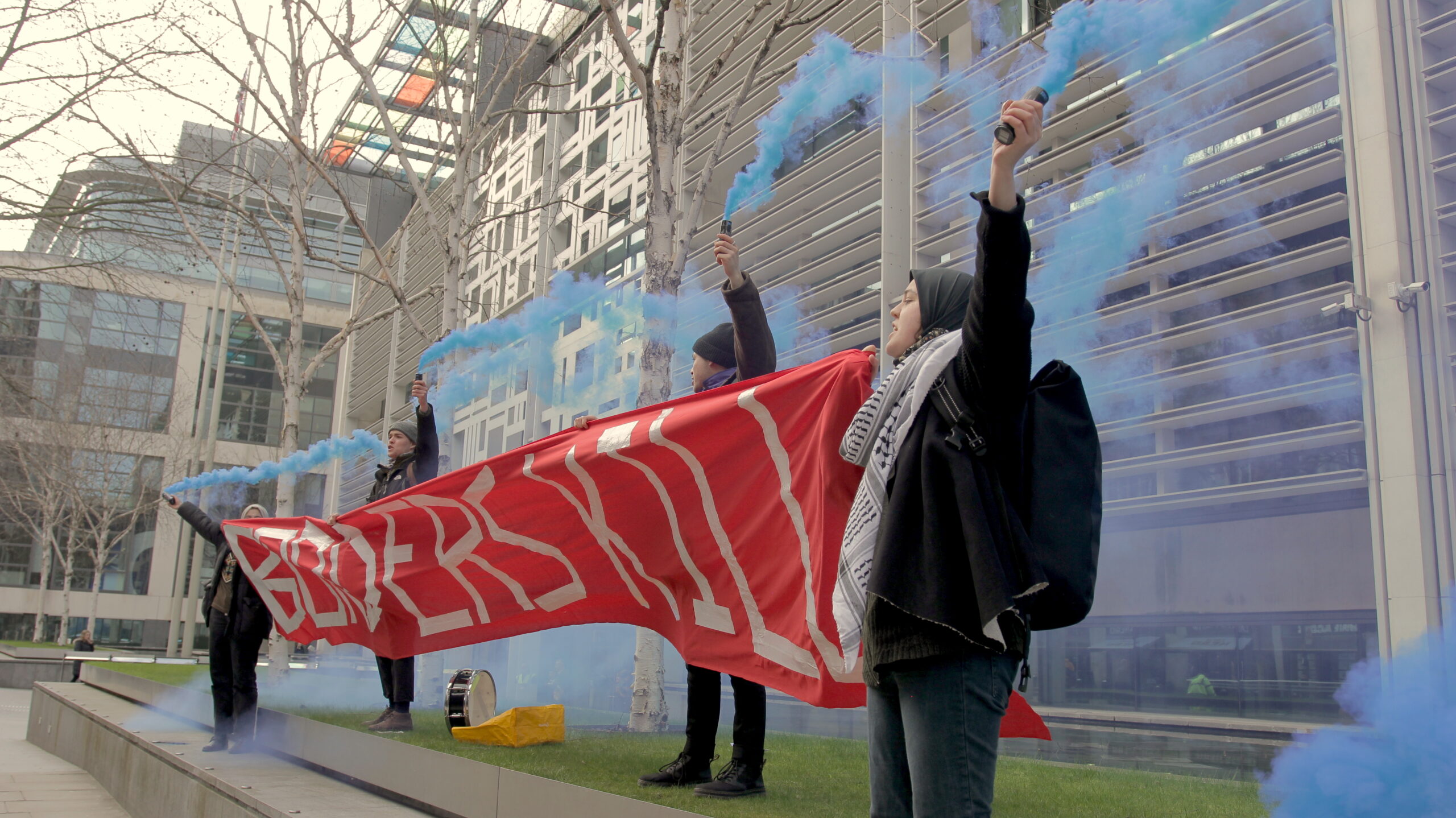 2020 invitations:
Delegations from 64 countries have been invited, including  Algeria, Bahrain, Brunei, Egypt, India, Israel, Nigeria, Pakistan, Qatar, Saudi Arabia, Turkey and UAE. Many of those invited are countries considered to be human rights priorities by the UK itself.
Over recent years UK equipment has been linked to crackdowns and human rights abuses in Hong Kong, Egypt and Saudi Arabia. The links between the 'security' industry and domestic oppression have always been strong, and ignoring the blurred line is a central facet of UK arms export policy. The reasons for it are obvious; estimates from Global Industry Analysts suggest the global market for 'non-lethal' weaponry will be worth $10.2 Billion by 2025.
Notably, there are invitations to countries where large protests and revolutions are taking place in demand for social and economic rights. Protesters have been met with intense and visibly violent (in many cases deadly) responses from respective states (as in Algeria, Chile and India).
Militarising Borders:
A key part of the Security and Policing Fair is focused on the border industry, and the violence integral to it, especially in Europe. The security industry has often described and treated migrants as subjects of/threats to 'security'. As well as being untrue, this account dehumanises migrants, and importantly doesn't take into consideration the collaboration between the border, surveillance and arms industries which has led to, among many other things, the graveyard in the mediterranean. These collaborations are clear in  wars, violence inflicted on communities by foreign states and corporations, and the militarisation of borders.
A recent report identified Thales, Leonardo and Airbus as being three of the main profiteers of the militarisation of EU borders. They will all be present at Security and Policing 2020.
Thales supplies maritime surveillance systems for drones, is researching how to track and control refugees on their way to Europe, and provides the security system for Calais. Leonardo supplies helicopters and drones for border security and received a contract in 2019 to maintain the EU's 'virtual walls'. Airbus also supplies helicopters for border patrol.
Security and Policing will be hosting other companies that are profiting directly from border controls. Corporate Watch has identified companies across all areas of involvement at Calais. Those exhibiting at Security & Policing 2020 include: Jacksons Fencing, Wagtail UK (dog services), Chess Dynamics (night vision equipment), Rapiscan (X-ray scanners) and Smiths Detection (scanners for Eurotunnel).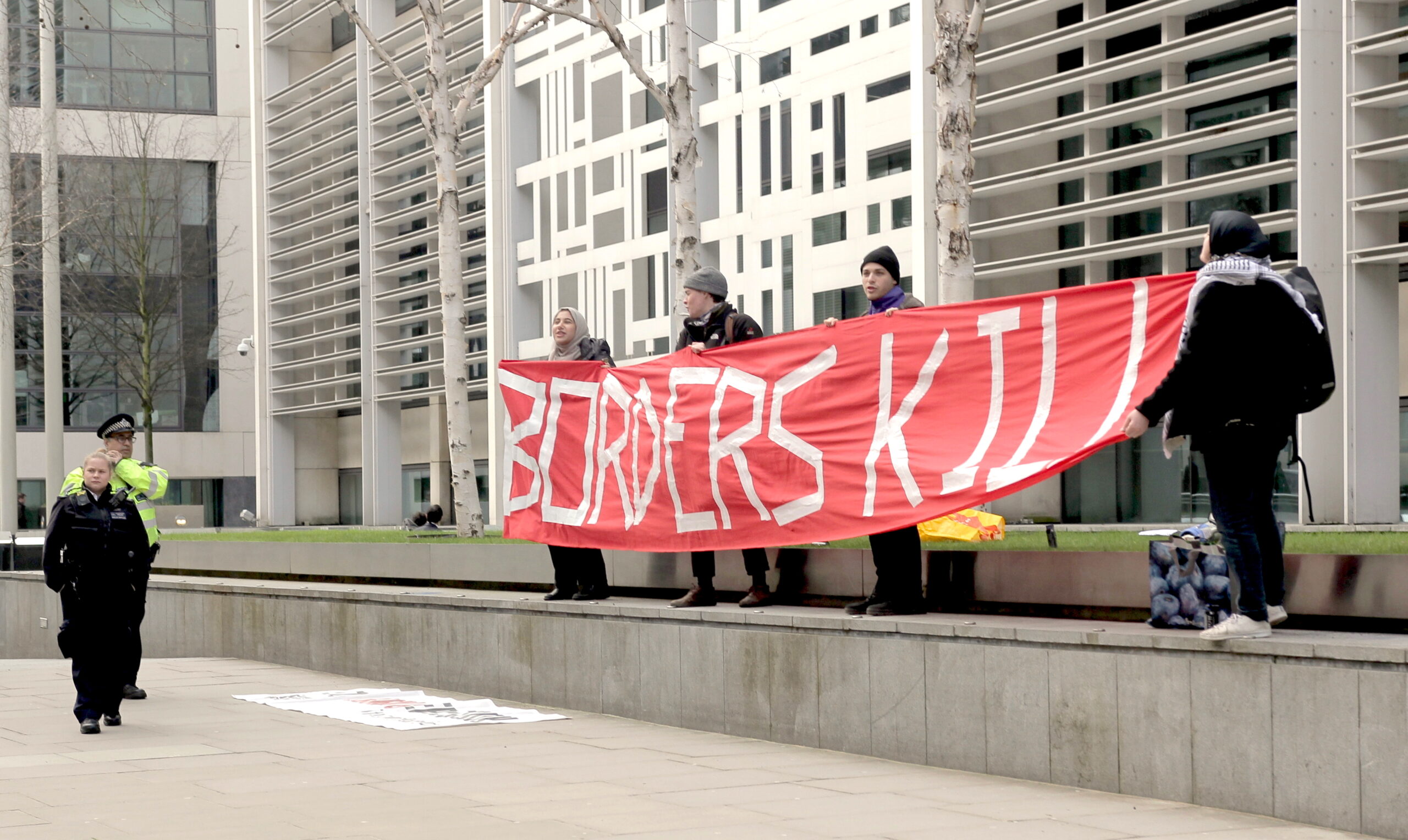 Surveillance
Crucial to both border and arms industries, and a focus for the fair, is surveillance.
Surveillance is a rapidly increasing market, that again undermines human rights in the UK and internationally. Often, these at home and abroad violences are inflicted by the very same corporations. One example is the Gamma Group, a surveillance company that sells monitoring centres for communications, technical surveillance and intrusion technology, and a member of the exhibiting Covert Technology Suppliers Forum. The company tried to sell its 'FinSpy' surveillance technology to Egypt before the revolution and its spyware has since been discovered in a total of 25 countries, including Bahrain, Turkmenistan and Vietnam. It has been alleged that its equipment appeared to have been used to continually monitor an Ethiopian political activist living in the UK, having left Ethiopia in 2009 due to "constant surveillance and harassment."
It is clear that there is no consideration for the security of people, rather this event is a clear example of promoting 'security' for government and state officials, and the corporations they work closely with. It is a stark reminder that the violence these fairs create are not geographically bound nor limited to specific equipment and weaponry. Whether it be through policing, detention, borders or drones, we must resist the arms industry in its entirety.