War Starts Here. This is where we stop it. One of the world's largest arms fairs, DSEI, takes place on our doorstep at the ExCel Centre in Newham, East London. The Festival of Resistance brought local and global activists together to #StopDSEI.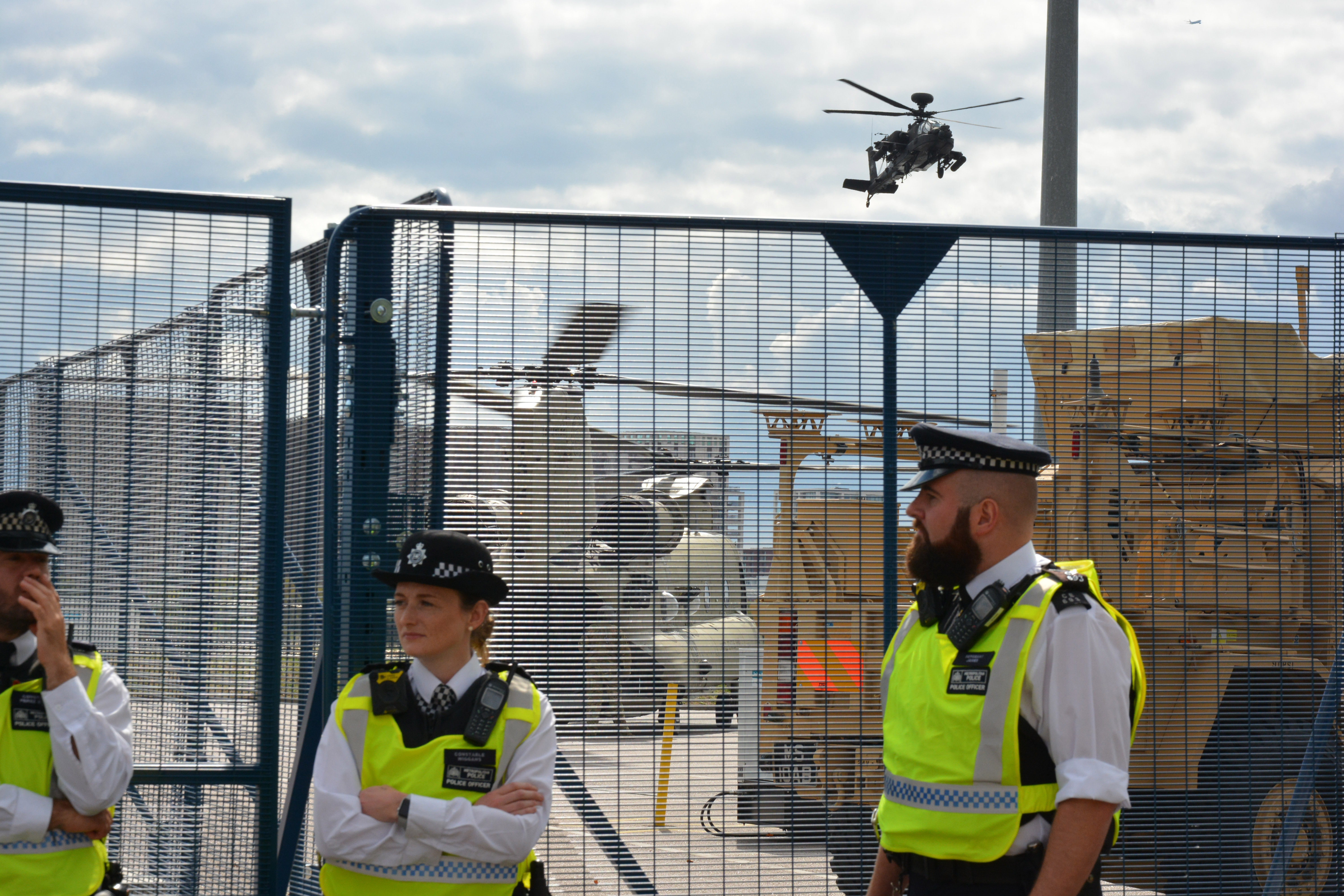 At DSEI, state officials from all over the world will be welcomed to shop for weapons, technologies and equipment used to repress, kill and torture. Instead of fighting rising inequality, the government is welcoming and promoting terror.
This is where those who profit from war and repression do business. This is where we can stop them.
We were honoured to hear from activists from all over the world, including Brazil, Bahrain, Saudi Arabia, Hong Kong and Sudan, on the importance of international solidarity.
Sayed Alwadaei of Bahrain Institute for Rights and Democracy told us that solidarity and action here means people in Bahrain can see people in UK standing up against arms companies, and against the war in Yemen.
Huge #Solidarity from #StopDSEI camp withthe #bahrainprisonersstrike @BirdBahrain_ pic.twitter.com/Kpj9JHJgjX

— CAAT (@CAATuk) September 7, 2019
Despite further deterioration in the human rights situation in Bahrain since the protests in 2011, the UK government continues to invite the regime to shop for weapons at DSEI , and glosses over its human rights abuses as it pursues further arms deals. We sent a message of solidarity to the 600+ political prisoners languishing in Bahrain's jails who have gone on hunger strike #BahrainPrisonersStrike.
Arabian activist Ameen Nemer spoke about the activists demanding their rights in Saudi Arabia. Saudi women have been fighting for their basic rights, including the right to drive, for years. The Saudi regime may finally have lifted the driving ban, but the women who fought for these rights have been imprisoned and tortured: we must stand with them.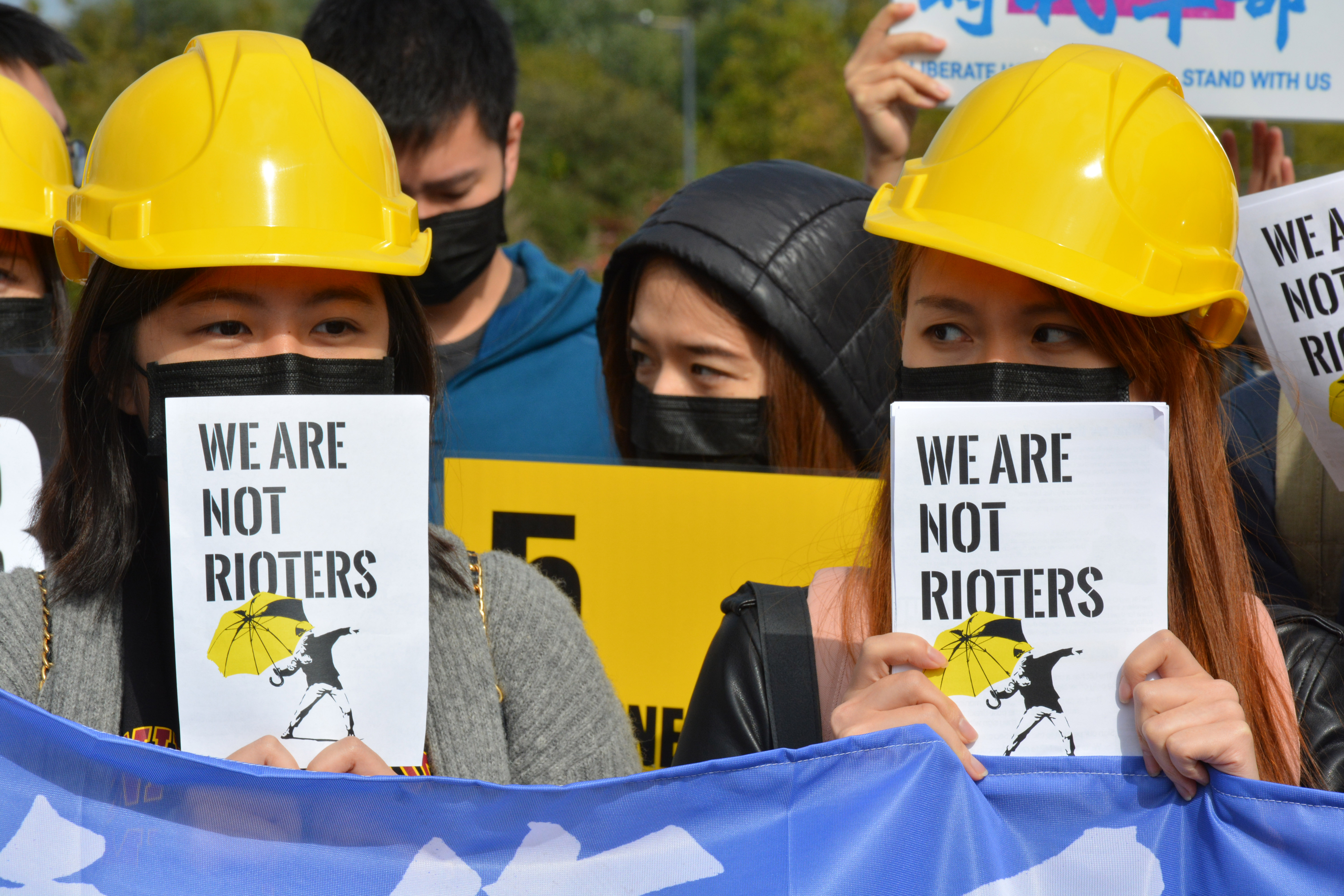 We also stood in solidarity with protesters in Hong Kong, and were joined by Democracy for Hong Kong and Fight for Freedom, Stand with Hong Kong, who talked about and shared diverse testimony from Hong Kong's protest movement, of state violence and their democratic demands.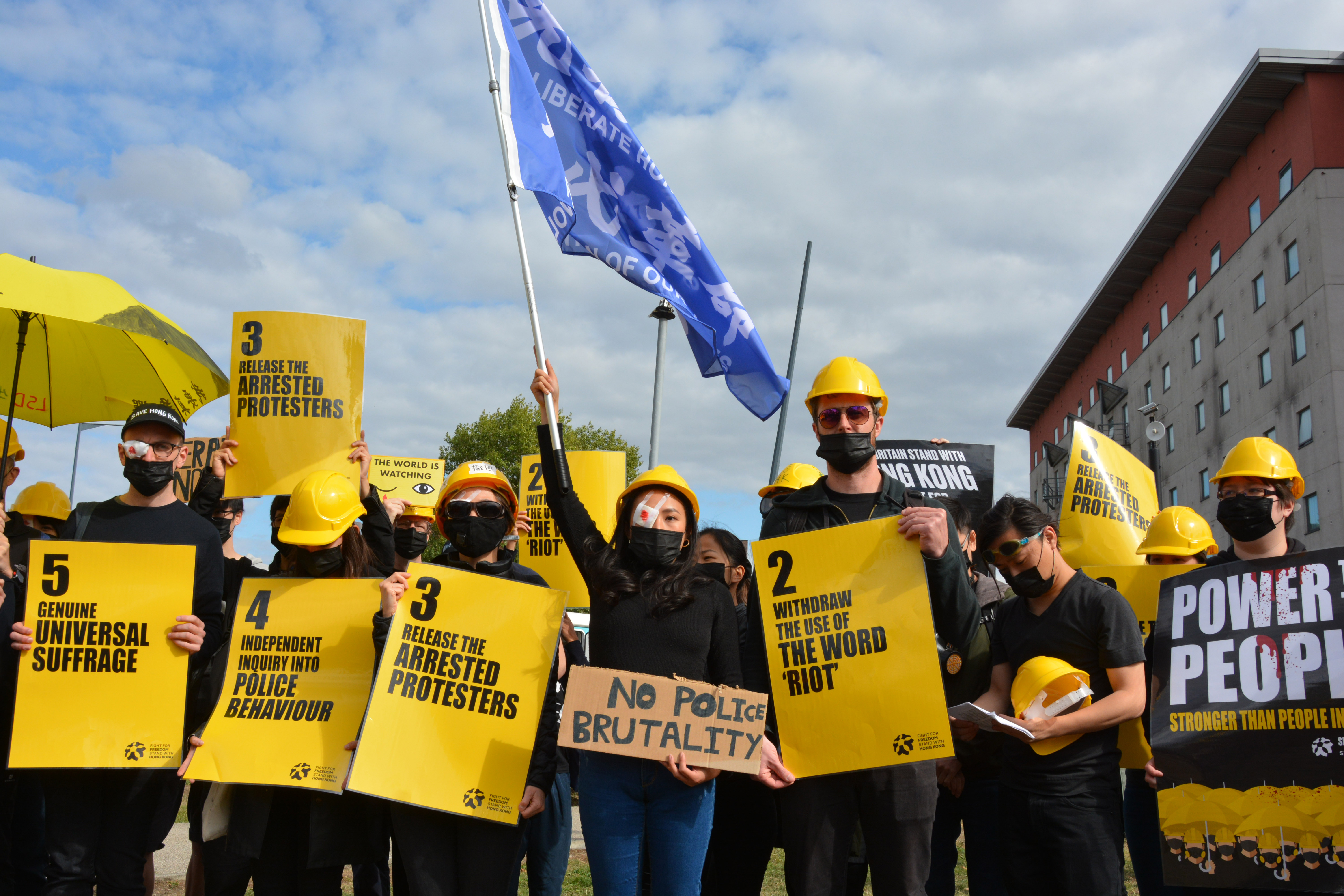 UK-made tear gas was used against Umbrella Movement protests in Hong Kong in 2014, yet the UK government continued to license further exports of crowd control equipment to Hong Kong after this time – which was again used against protesters in 2019. After public pressure, the UK government recently suspended these licences – but it still invited the Hong Kong authorities to this year's arms fair.
Brazilian Women against Fascism joined us in protest against Bolsonaro's murderous government, and make links between state violence, racism, environmental destruction and the arms trade. A military delegation from Brazil, as well as Brazilian arms companies and arms suppliers to Brazil will all be at DSEI.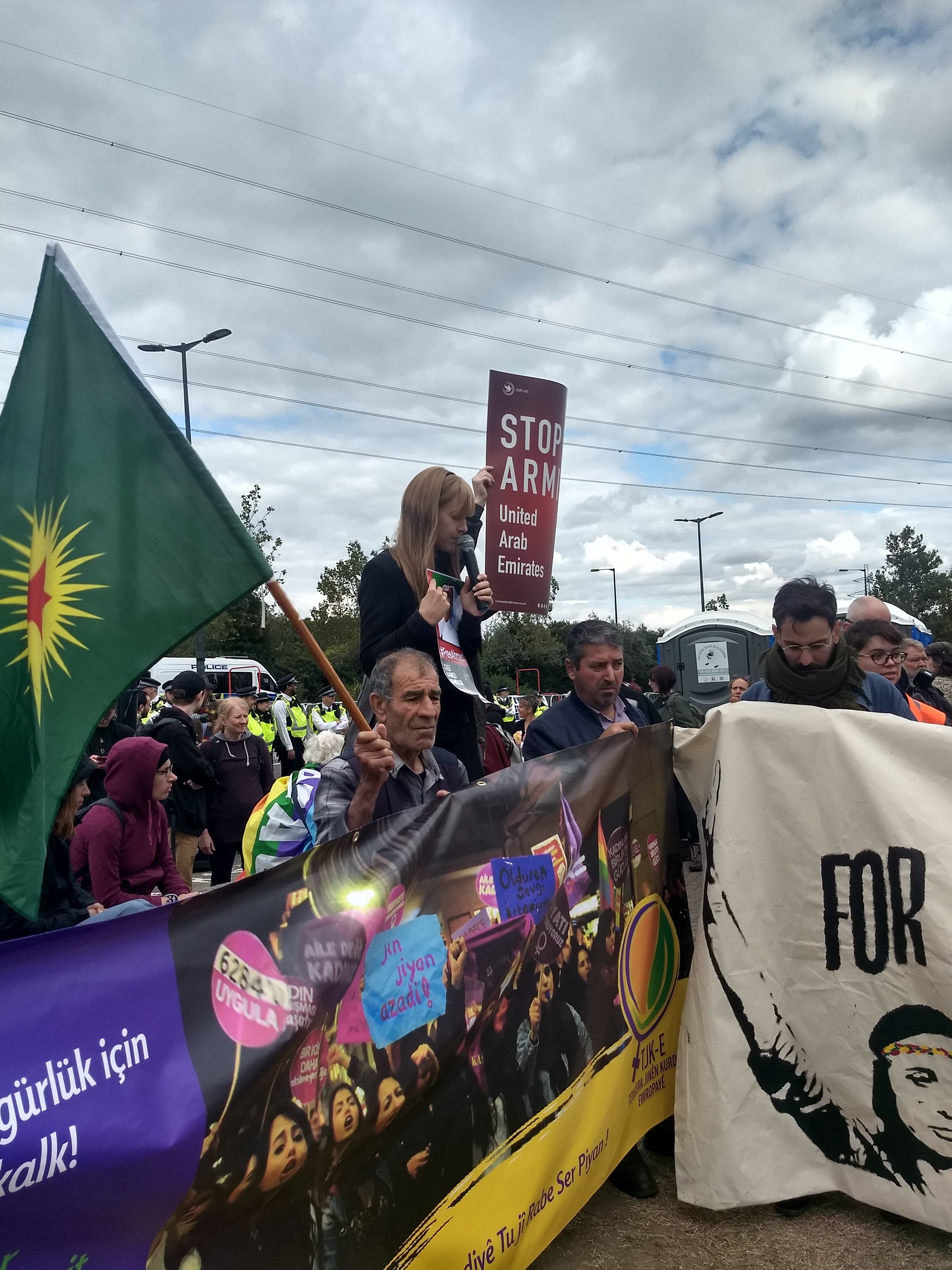 We also heard from @ICFUAE on UAE state ownership of the Excel Centre, where the arms fair is held and UAE's involvement in war crimes in Yemen. Human rights defenders in UAE are being targeted with surveillance equipment from DSEI exhibitor BAE, and both UAE and BAE Systems are sponsors of the arms fair. A UAE military delegation will attend.
Kurdish groups joined with a message of "Women, life, freedom," but were met with a violent response from police.
Meanwhile, police also arrested several protesters after equipment was delayed from entering the fair.
Huge #Solidarity from #StopDSEI camp withthe #bahrainprisonersstrike @BirdBahrain_ pic.twitter.com/Kpj9JHJgjX

— CAAT (@CAATuk) September 7, 2019
Panels and workshops linked the local and global – where we can take action ourselves, and where we can stand in solidarity with others' struggles. 1 in 25 people in Newham are homeless, but, instead of providing public housing, investing in public healthcare, and protecting workers rights, the government prefers to support an industry of death.
Right now 1 in 25 families in Newham is homeless yet there's money to put on a massive arms fair. Great speakers from @LDNRentersUnion @Medact and @pcs_union at #StopDSEI panel talk pic.twitter.com/MLNZiMspmV

— achilles hil (@hilary_aked) September 7, 2019
London Renters Union – a member-led, campaigning union taking action to transform the housing system and win homes for people, not private profit – discussed the victories they've had by acting together, and ran a workshop on housing rights.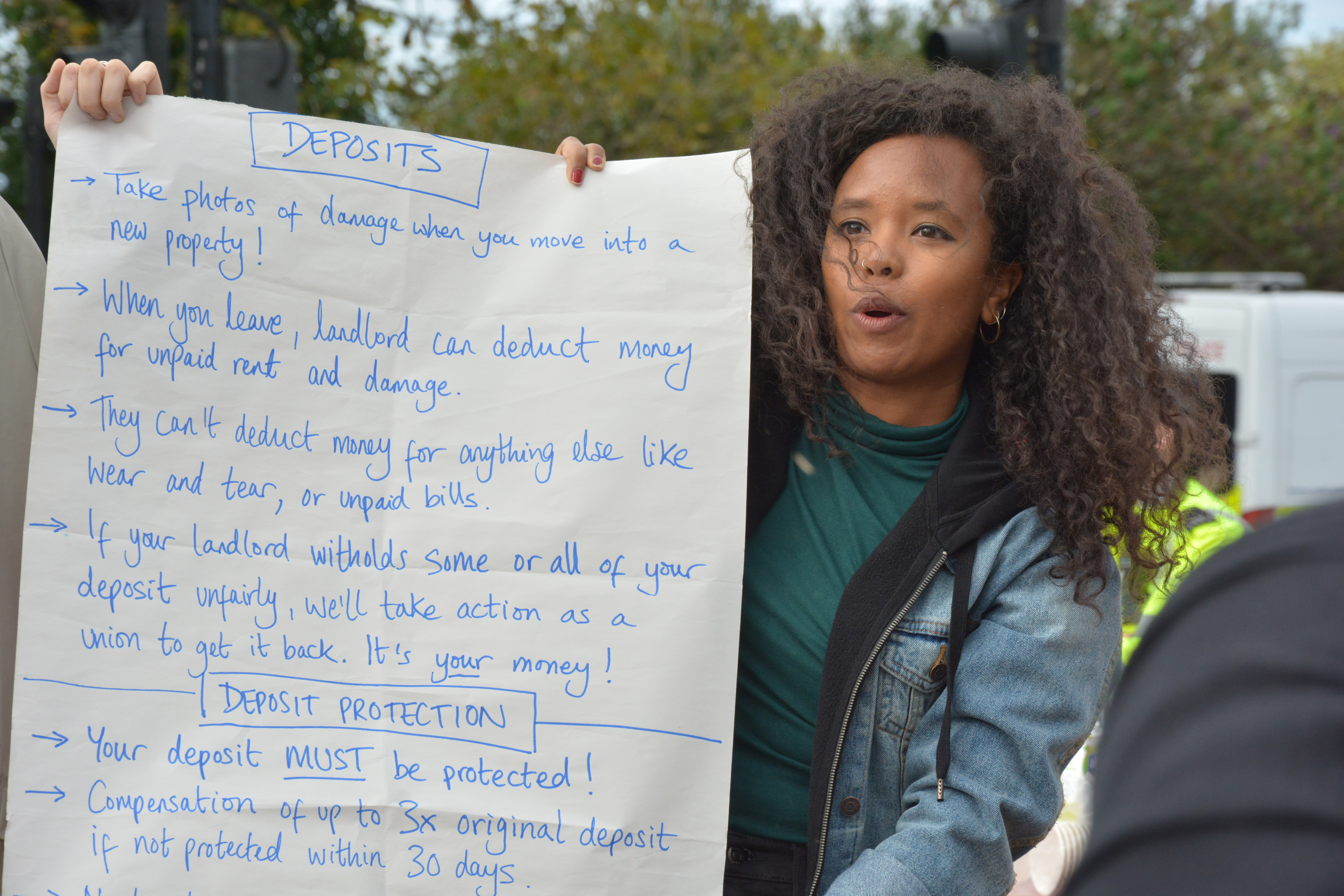 Medact members represented healthcare workers outside the arms fair, saying, "War is a massive public health catastrophe, fuelled by the arms trade". They sent an open letter signed by 276 health workers to the government urging it to stop the arms fair and stop arming Saudi Arabia. Two health professionals explained in the Herald why they were speaking out.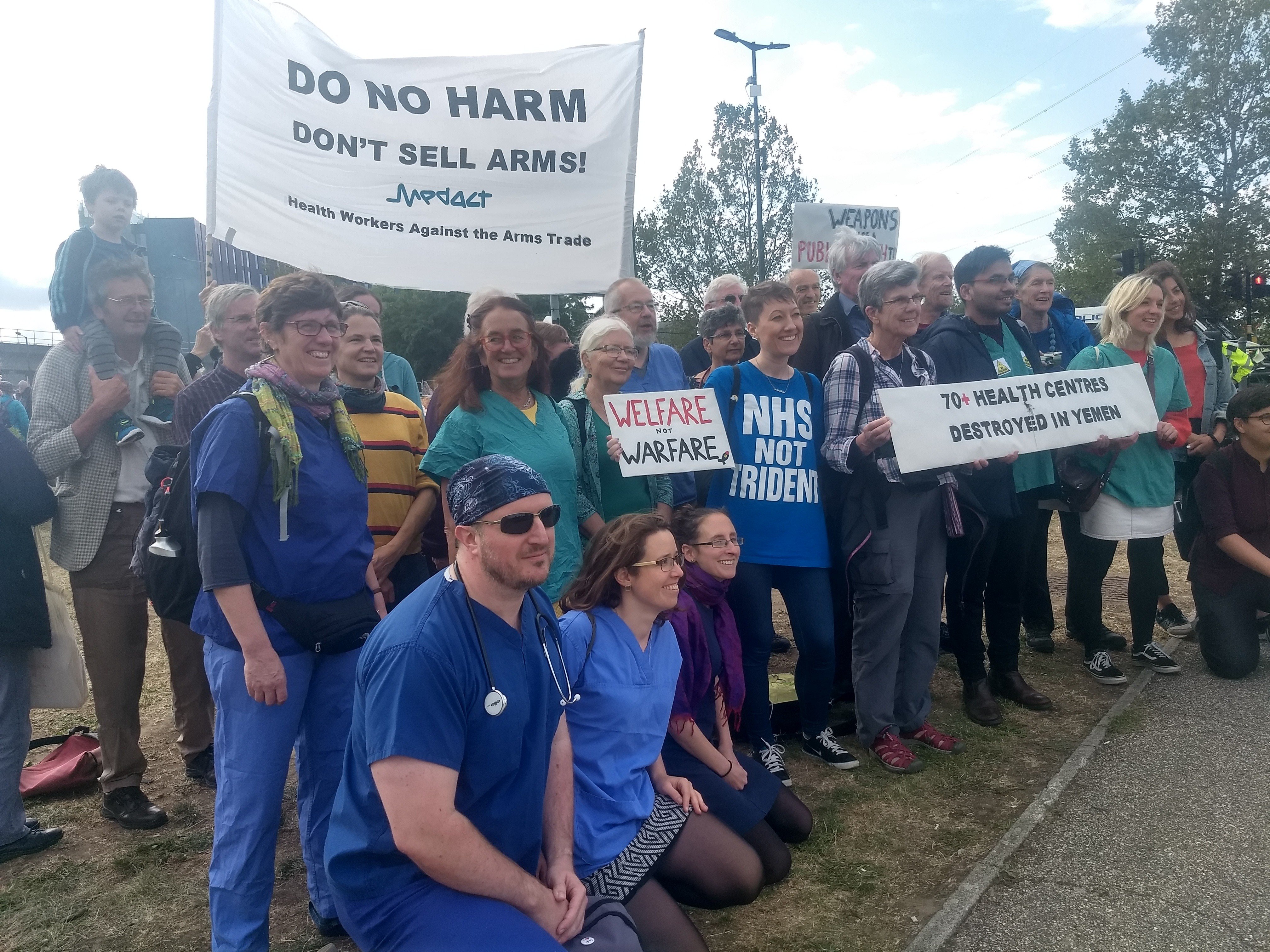 The evening ended with powerful performances and a film screening.
Thanks to everyone who made the day!
Games not guns

Credit: Darren Johnson

Sisters Uncut shared Collective Organising skills
Credit: Darren Johnson

Credit: Darren Johnson

Credit: Darren Johnson

Credit: Darren Johnson

Shareefa Energy performs. Credit: Darren Johnson

Credit: Darren Johnson

Craftivism to #StopDSEI
For more from the day and the countless people who contributed, check out our photo gallery on Flickr and Facebook, and short film, made by the incredible Rainbow Collective.