In February 2011, Bahrain's Pearl Roundabout in Manama became the focal point of protesters calling for political and economic reforms. They were part of the Arab Uprisings, the wave of protests that swept the region in 2011.
The authorities responded with violence. Peaceful protests were met with bullets and teargas, arrests and torture. Ten years on, a new report finds that Bahrain has "regressed in almost every area of Human Rights".
The UK has a long history of colonial intervention in Bahrain, which has been ruled by the Al Khalifa family for more than 200 years. Bahrain declared independence in 1971, but the UK government has maintained a close relationship with its rulers, in order to protect its interests in the region.
Rather than support the human rights and democratic aspirations of the Bahraini people, it has assisted government repression and whitewashed the regime's abuses.
UK complicity in repression
As Bahraini security forces responded to the Pearl roundabout protests with a brutal crackdown, much of this abuse used the same type of weaponry provided to Bahrain by the UK.
Military exports approved by the UK government in the months before included tear gas and 'crowd control' ammunition, assault rifles, shotguns, sniper rifles and sub-machine guns.
In March 2011, dozens of Saudi Tactica armoured personnel vehicles entered Bahrain to support the crackdown. They were manufactured by BAE Systems in Newcastle, and supplied to the Saudi Arabian National Guard in a special contract approved by the UK government.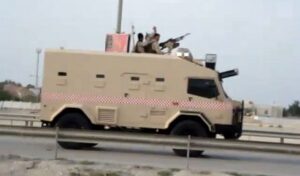 Ignoring the rules
The UK government permitted the export of these goods in the full knowledge that Bahrain was controlled by an authoritarian regime, and despite its own policy saying it should not authorise exports which might be used for internal repression.
The UK finally revoked 44 arms licences to Bahrain in February 2011, but only after several deaths, hundreds of injuries, worldwide condemnation and intense pressure.
However, by June it was back to business as usual.
In July-September 2011 the government licensed military exports worth £1.3 million, including gun silencers, weapon sights and rifles.
In August 2011, Bahrain was again described as a 'priority market' for UK arms exports.
In September 2011, the UK government invited Bahrain to send an official delegation to the DSEI arms fair in London.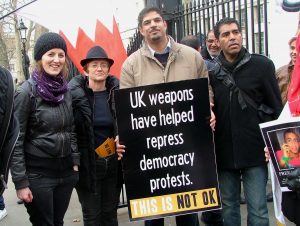 In solidarity with Bahrain
Ongoing repression
As arms sales continued, repression in Bahrain intensified. The crackdown continued with government forces raiding Shia villages, amid indiscriminate firing of bullets and birdshot, and the use of tear gas as a form of collective punishment.
Physicians for Human Rights said the use of tear gas, 'weaponised' in a 500 day campaign against the majority Shi'a population, was
"unprecedented in the 100-year history of tear gas use against civilians".
Hundreds of people were unjustly detained. Torture and ill-treatment of prisoners was "systematic."
In the following years, Bahrain became "one of the Middle East's most repressive states" according to Freedom House. Basic freedoms were restricted, and political opposition dismantled.
Increased repression, increased arms sales
Despite the deterioration in human rights in Bahrain, the UK government continued to allow further weapons sales to the country.
It didn't just allow these sales;  it actively promoted them. It invited Bahraini delegations to arms fairs in the UK and a bid  to persuade Bahrain to purchase BAE's Eurofighter Typhoons saw the UK government arrange Royal visits,  a huge delegation to the Dubai Airshow, and even a tour of the Red Arrows.
Military cooperation also increased. In October 2012, the UK and Bahrain signed a memorandum of understanding on military co-operation including areas such as intelligence exchange and military force training.
Training provided by the UK includes military courses for sniper unit commanders training army officers and members of the royal family at the Sandhurst Military Academy, and training for prison guards.
In 2018, the UK opened a new Naval Base in Bahrain, in order to 'guarantee Britain's sustained presence east of Suez' and 'enable Britain to work with our allies to reinforce stability in the Gulf and beyond.'  Named after a colonial base, it was partly funded by the Bahrain government.
Whitewashing human rights abuses
The UK government and its supporters claim that the UK's 'close relationship' with Bahrain enables it to exert influence and push for reform. In fact, the opposite is true.
The culture of impunity in Bahrain is supported and reinforced by continuing weapons sales. These deals support the regime materially and convey legitimacy on it politically. And the influence flows in the other direction: Bahrain's rulers know that when they talk about buying UK weapons, or invest in a military base, they are also buying the UK government's silence on human rights abuses.
For example, the Foreign Office repeatedly refused to include Bahrain on its list of countries of concern for human rights, despite calls from Parliament's Foreign Affairs Committee and many others.
Bahrain's allies have opted for a disastrous policy of appeasement and acquiescence, and they have remained largely silent in the face of human rights violations that they would loudly denounce were they taking place in a less strategically important country.

Nicholas McGeehan, Human Rights Watch, September 2014
Taking action
We can challenge this support by resisting arms sales and taking action to support those working to promote human rights in Bahrain.
Follow the work of Bahrain Institute for Rights and Democracy. BIRD works to promote human rights and effective accountability in Bahrain.
Come to our 'It Starts Here' event in March where we will gather to connect, share skills, deepen our knowledge and create plans to take on the arms trade. We'll explore the UK's role in perpetuating human rights abuses and ongoing conflicts in the Middle East during this important anniversary year of the "Arab Uprisings". Register to attend here.
Banner image: Mahmood Al-Yousif on Flickr. (CC BY-NC 2.0)