After years of delay the Serious Fraud Office announced in July 2020 that it had brought charges in relations to allegations of corruption in an arms deal with Saudi Arabia.
Thousands of CAAT supporters took action to shine a spotlight on this case – thank you all for making sure that the government could not sweep it under the carpet.
What's it all about?
The allegations relate to a £2 billion deal to supply the Saudi Arabian National Guard
In 2010 a company called "GPT Special Operations Management", a subsidiary of Airbus, agreed a £2 billion deal to supply communications equipment to the Saudi Arabian National Guard (which helps Saudi Arabia's repressive rulers maintain control).
The same year a whistle blower fled the country after uncovering evidence that GPT used tens of millions of pounds of illicit payments and gifts to secure the deal.
The UK's Serious Fraud Office began investigating the deal in 2012. In 2018 it finally requested a prosecution – but then nothing happened. No explanation was given for the delay.
An earlier corruption investigation was blocked by the UK government in order to protect the UK's trading relationship with Saudi Arabia, so we feared the same fate for this one …
… until thousands of CAAT supporters wrote to the new Attorney General and demanded action.
In April 2020, Suella Braverman told Parliament:
"that case was one of the first matters, if not the first, to cross my desk, so it is a priority for me and I will not rest until we find an appropriate resolution."
Now GPT and three individuals have been charged.
Thank you again for everyone who took action, for helping ensure some rare and important accountability.
The Saudi Arabian National Guard
The National Guard is a 'second army' which helps keep the repressive regime in Saudi Arabia in power, guarding against internal dissent.
These troops also supported the repression of democracy protests in Bahrain, using UK-made armoured vehicles.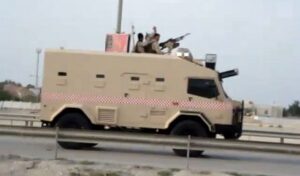 Still from a video of Saudi forces entering Bahrain in UK-made armoured vehicles in March 2011 to support the repression of democracy protests. The Saudi Arabia National Guard (SANG) ordered 261 of the vehicles in 2006.
SANGCOM
SANGCOM is a military communications project supplying the National Guard. The UK Ministry of Defence has signed Memoranda of Understanding with the Saudi Arabian Government; it then places contracts with UK prime contractors to fulfil the UK's obligations. The contract is with what is now GPT Special Project Management Ltd.  More than 75 UK civil servants and military personnel work for SANGCOM – with Saudi Arabia reimbursing the cost.
The UK and arms trade corruption.
The UK has a shameful history on arms trade corruption.
In 2006, BAE escaped the process of justice when Tony Blair – under pressure from Saudi Arabia – quashed another investigation by the Serious Fraud Office into BAE's multi-billion pound Al Yamamah deals with Saudi Arabia. described at the time as the "biggest UK sale ever of anything to anyone"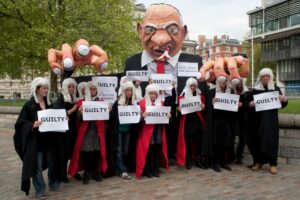 CAAT's 'People's Jury' holding BAE to account. Picture credit: Przemek Wajerowicz
While the UK government blocked the investigation, (despite opposition in the courts from CAAT) the US Department for Justice later sentenced BAE to pay a $400 million criminal fine in relation to its deals in Saudi Arabia, the Czech Republic and Hungary. It found that BAE had made "hundreds of millions of dollars in payments to third parties, while knowing of a high probability that money would be passed on to foreign government decision-makers to favour BAE in the award of defence contracts".
Like the Al Yamamah case, the GPT case concerns another deal brokered by the UK government with Saudi Arabia.
With our action we can make it harder for them to sweep this under the carpet too. We'll be keeping the pressure on to ensure the government prioritises the rule of law and the UK's international obligations over the interests of arms companies and the repressive regimes they supply