Export Licences
Since the failed coup in July 2016, and the crackdown against opposition groups that followed, the UK has approved permanent Single Individual Export Licences (SIELs) worth £1.6 billion for arms exports to Turkey (up to the end of 2022). Since the outbreak of the protests in May 2013, the figure rises to £2.1 billion.
In addition, 146 Open Individual Export Licences (OIELs) were issued for exports to Turkey, allowing for unlimited deliveries of the equipment specified in the licence.
Turkey has consistently been a "priority market" for the UK government's arms export unit.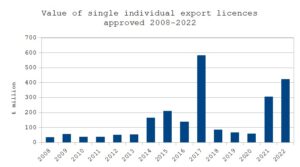 Collaborative projects
Turkey is one of the original partners for the A400M Atlas military transport aircraft, taking delivery of 10 such aircraft between 2014-2021, according to the SIPRI Arms Transfers Database. The wings for the A400M are built in the UK by Airbus, at Filton, Bristol. BAE Systems produces equipment for the engines.
BAE Systems and other UK companies also have a major role in the F-35 Lightening II Joint Strike Fighter, for which Turkey was a partner nation, and had ordered 100 aircraft, the first two of which were delivered in 2018, according to SIPRI. However, Turkey was kicked out of the F-35 programme by the US in 2019, following their purchase of advanced S-400 air defence systems from Russia. Fifteen percent of the value of every F-35 is produced in the UK.
BAE's cooperation with the Turkish arms industry
In January 2017, Prime Minister Theresa May signed heads of agreement for a £100 million deal for BAE Systems to support the development of Turkey's indigenous TF-X fighter jets, led by Turkish Aerospace Industries.
BAE also has an armoured vehicle joint venture, FNSS, along with Turkish arms company Nurol Holding. BAE owns 49% of the shares in the joint venture company. FNSS has delivered 4,000 armoured vehicles worldwide, to Turkish and foreign armed forces, according to their website. FNSS operates a facility in Saudi Arabia where it modernises Saudi M113 armoured vehicles. Other markets for FNSS include the Philippines, Malaysia, Indonesia, and the UAE.
In October 2021, and again in March 2022, two export licences were issued by the UK government, each worth £250 million, for technology for tanks, military combat vehicles, and military support vehicles. These are among the largest individual licences issued for export to Turkey since 2008. Such large licences for "technology" suggests that this is intended to enable licenced production in Turkey of equipment using UK designs. Most likely, this relates to BAE's FNSS joint venture.
Thus, BAE and the UK government are helping Turkey develop its burgeoning domestic arms industry, which in turn exports growing volumes of weapons round the world, with even less restraint than the UK.
Hidden exports
Most UK exports of equipment for the A400M, the F35, and the TF-X programmes are covered by Open General Export Licences (OGELs), which are even more expansive than OIELs, allowing the licence-free export of a wide range of equipment, specified in each licence, to countries listed in the licence. OGELs are valid indefinitely, until revoked.
Therefore, it is likely that a significant proportion of UK arms exports to Turkey are not revealed in the available data on arms exports to Turkey, including the figures discussed above.
Arms used in conflict
Turkey's Air Force primarily uses Lockheed Martin F-16 fighter aircraft from the US, and T-129 attack helicopters, produced as a joint venture between Turkish Aerospace Industries and the Italian half of AgustaWestland, in most of its bombing campaigns, within Turkey and in Iraq and Syria. The F-16 fighter planes used by Turkey to bomb Afrin include laser targeting systems produced by Leonardo in Edinburgh. BAE Systems also produce components for the F-16.
Drone technology
In recent years, Turkey has become a major player in the production and use of unarmed aerial vehicles (UAVs, or drones), including armed drones. Turkey has deployed armed drones extensively in its wars against the Kurds, as well as its intervention in the civil war in Libya.
Research in 2019 by Ceri Gibbons, an activist with Brighton Against the Arms Trade revealed how Turkey's development of armed drones was helped by the supply of technology and components from Brighton-based arms company EDO MBM, now a subsidiary of US company L3Harris. Specifically, they supplied bomb release mechanisms and associated technology which were used by Turkish arms company Baykar to produce Turkey's first armed drone, the Bayraktar TB2. The first successful test fire of a missile from the Bayraktar was conducted in December 2015, just a few months after EDO MBM received licences for the crucial components and technology.
In recent years, the Bayraktar TB-2 has been exported widely to countries in Asia, Africa, and Europe, and has been used to lethal effect by Azerbaijan in its war with Armenia, by Ethiopia in its brutal war against the rebellious Tigray province, and in the Libyan civil war. They have also been used by Ukraine in resisting the Russian invasion.
Suspension – and resumption – of licences
In October 2019, following the Turkish offensive in Rojava in northern Syria, the UK government announced a halt to new export licences for arms sales to Turkey. However, existing export licences remained valid for use, including the open licences for BAE's participation in Turkey's TF-X programme. No new licences for Turkey were issued for about 3 months, when they resumed, apparently subject to continuing conditions that licences would not be issued for equipment that might be used in Syria. However, in December 2021, the UK government announced the removal of all restrictions on export licences to Turkey, resuming normal licencing procedures based on the usual criteria.