Aside from Israel's own arms industry, the USA is by far the biggest supplier of arms to Israel. However, numerous other countries are also major suppliers, especially Germany, Italy, and the United Kingdom. According to data from the Stockholm International Peace Research Institute (SIPRI), between 2009 and 2018, the US supplied 70% of all international transfers of major conventional weapons to Israel. They were followed by Germany with 24%, and Italy with 5.9%. Israel was the 19th largest importer of major conventional weapons worldwide during this period.
Exporters of major conventional weapons to Israel 2011-2020 (from SIPRI Arms Transfers Database):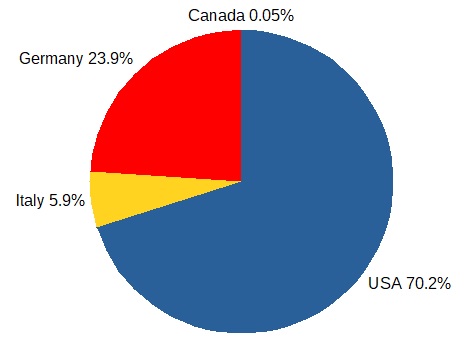 For some exporters, financial data on deliveries and/or licenses is also available, which also covers components, small arms and light weapons, and other equipment not covered by SIPRI. From 2015-2019, the US signed contracts worth $8.7 billion (£6.2 b.) worth of arms to Israel. During this time, those EU members that report figures for arms deliveries supplied €682 million (£587m.) worth of arms to Israel, led by Italy, with €342 million (£294 m.). Germany and the UK do not provide delivery data, but Germany issued licenses for arms sales to Israel worth €862 million (£742 m.) between 2015 and 2019, while the UK issued individual licenses worth £376 million. (See CAAT's
EU arms sales browser
for more information).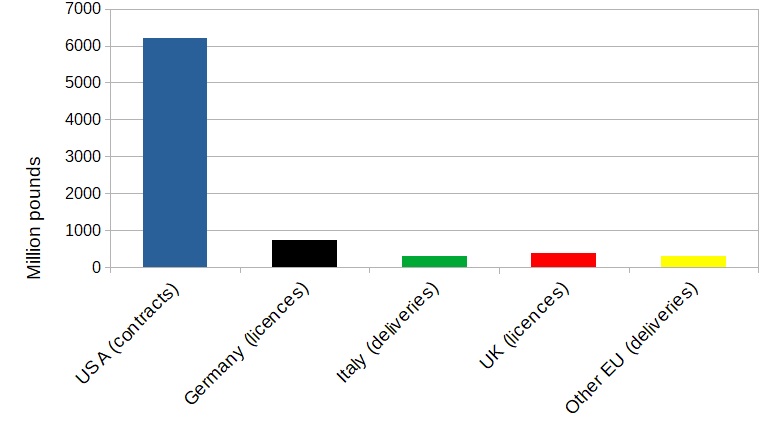 Companies supplying arms to Israel
Some of the most important companies supplying arms to Israel are listed below. While many are US or German companies, many have a significant presence in the UK as well.
Other companies with UK connections
Some other UK companies and international companies with UK locations are known to have supplied arms and security equipment to Israel. For more information, including sources and company descriptions, please click on the company names.
Components for F-16 fighter aircraft:
GE Aviation (US headquartered, with locations in the UK):
Produced engines for selected F-16s
MPE (UK headquartered):
Electromagnetic filters manufactured by MPE were used in bomb racks put on F-16s
Components for Merkava tanks:
Ametek (US headquartered, with locations in the UK):
Cooling systems produced by Ametek Airtechnology Group Limited have been used to equip Merkava tanks
Renk AG (German headquartered, with a location in the UK):
Transmission systems manufactured by Renk equip the Merkava 4 tank
Components for Apache attack helicopters:
AgustaWestland (Subsidiary of Italy-headquartered Leonardo, with substantial locations in the UK):
Manufactures a range of components for the Apaches.
Meggitt (UK headquartered):
Its air data system found in Apache gunships.
Penny + Giles Controls (UK headquartered):
Its rotary variable transformers have been identified on Apache gunships in Israel.
Redmayne Engineering (UK headquartered):
Its Jesus nut is used to hold the main rotor head of the Apache.
Senior plc (UK headquartered)
Air ducting systems produced by Senior Aerospace BWT have been identified in Israeli Apache gunships.
SPS Aerostructures (UK headquartered):
Engine air intakes produced by SPS Aerostructures were found on Apache gunships.
UTC Aerospace (US headquartered, with locations in the UK): Page Aerospace (UK) has produced light dimming systems used in Israeli Apache gunships.
Missiles:
Raytheon (US headquartered, with locations in the UK):
Joint producer of the Stunner missile with Rafael.
Vehicles:
Land Rover (UK headquartered):
The Defender model forms the basis of the David Light Armoured Vehicle.
Drones:
Elbit Systems (Israel headquartered, with two UK subsidiaries – UAV Tactical Systems Limited and UAV Engines Limited):
Produces electronic military communication systems and unmanned aircraft systems, including the Hermes drone.
Security:
G4S (UK headquartered):
Its security systems are used in Israeli prisons
From Freedom of Information (FoI) requests, we also know of a large number of arms companies that have applied to export arms from the UK to Israel for 2010-2015. Over 40 of these companies are listed in our companies pages, and more detailed information about export applications is also available on our Arms Export Data browsers. Information for 2016 and beyond is not currently available.