The United States is the world's largest arms exporter, by any measure. According to SIPRI's Arms Transfers Database, the US was responsible for 37% of the exports of major conventional weapons worldwide between 2016-2020, well ahead of Russia in second place with 20%. US exports were 15% higher in 2016-20 than in the previous five-year period, 2011-15.
According to the SIPRI data, 47% of US exports were to the Middle East, including 24% to Saudi Arabia, their largest customer by far. 27% were to the Asia Pacific Region, 16% were to Europe and Central Asia, 5.4% were to South Asia, 2.7% were to Africa, and 2.6% to other countries in the Americas (see chart).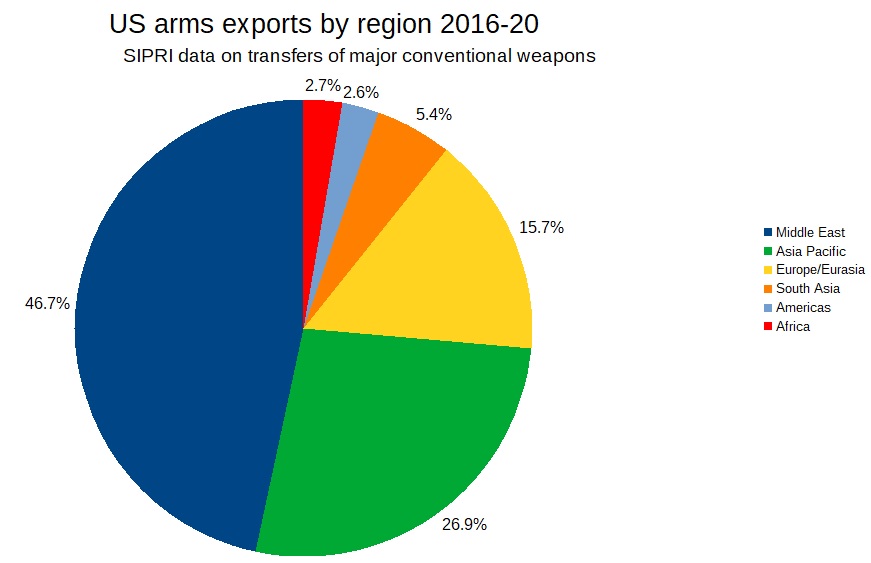 However, SIPRI data probably understates the true level of US dominance in the global arms trade in financial terms, as it does not include military services, which makes up a significant portion of the value of US arms export contracts.
Most US arms sales are made through the government-government Foreign Military Sales (FMS) program. According to the most recent figures from the US government, the US agreed $237 billion worth of arms sales in Fiscal Years 2016-2020. (Figures for deliveries were provided up to FY2017, but have not been since, in a marked reduction in transparency). Sales have surged in recent years due to deals with many countries for the F-35 stealth fighter, the most expensive weapons program in history. Under the FMS program, the US government signs the deal with the recipient and contracts the work to a US arms company.
In addition, US arms companies delivered $17 billion worth of arms between FY2015-19 through Direct Commercial Sales (DCS) agreements negotiated between the companies and the recipient governments, and licenced by the US government.
Overall, therefore, US arms sales have averaged around $50 billion a year in recent years, far in excess of the next biggest sellers Russia (about $15 billion a year) or the UK (about $13 billion).
Data and analysis on all types of US arms sales, as well as on military aid provided to foreign countries, can be found at the Security Assistance Monitor.
US Foreign Military Sales 2000-2020
The graph below shows the value of US Foreign Military Sales agreements, in constant 2019 prices, from 2000-2020. The bars show the value each year, while the line shows a 5-year average. Click here to view data.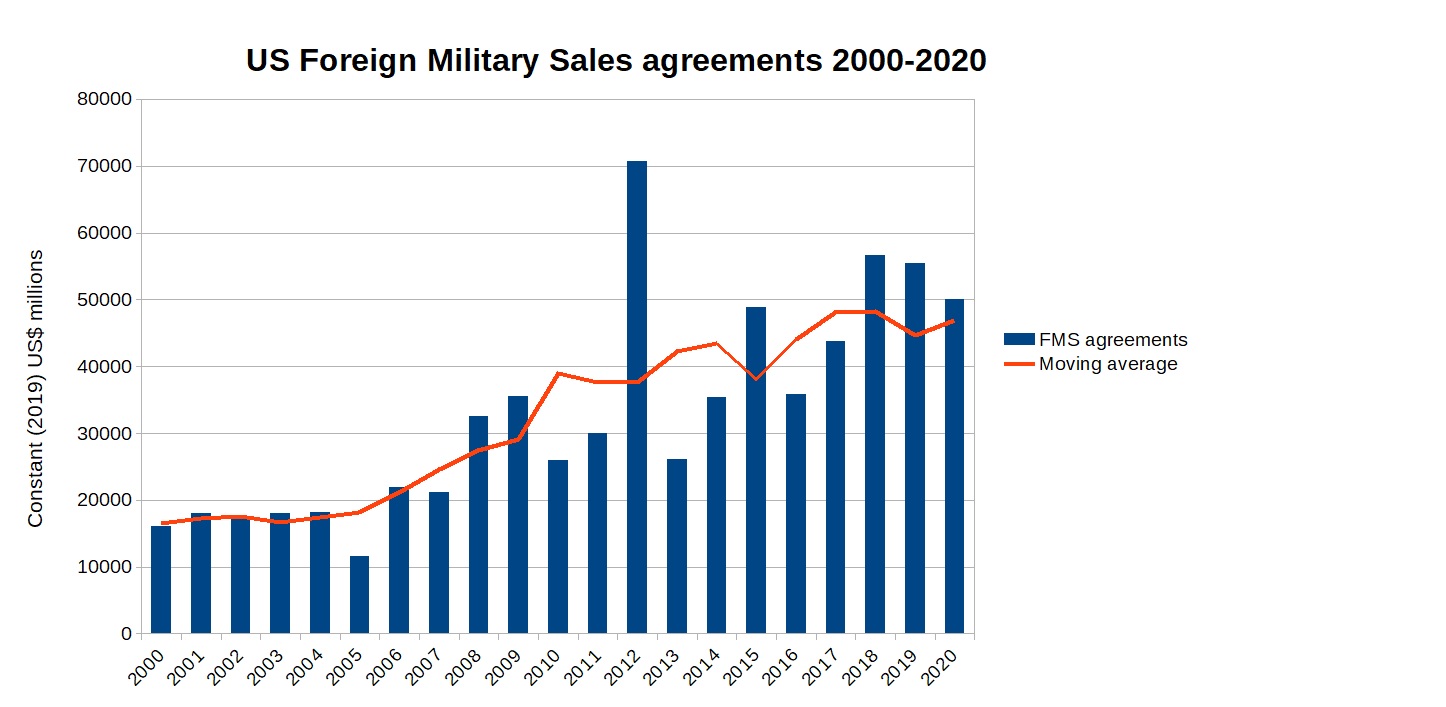 Source: 
US Defence Security Cooperation Agency, 2017
Historical Facts Book
and 2020
Historical Sales
book.